When you think of Snapchat, you probably don't think of hard news. You likely think of young women with the puppy-face filter that has become the app's signature. Maybe you think of college students, kids who recklessly speed, or politicians who try to be cool.
You might be surprised to learn, then, that Snapchat — and plenty of the organizations that now have accounts on it — is determined to become a source of news. If that strikes you as funny, be careful; Twitter has become the fastest way to share news directly from the source of any and all action around the world and anyone who disputes that now faces the risk of looking retrograde and being left behind. The same will soon be the same for Snapchat, surely.
A prime example of an organization that not only knows that, but is pushing toward it, is CNN. Since the news of the massacre at a gay bar in Orlando broke yesterday morning, their tab on the app's discover page has been consistently updating with news from sources on the ground.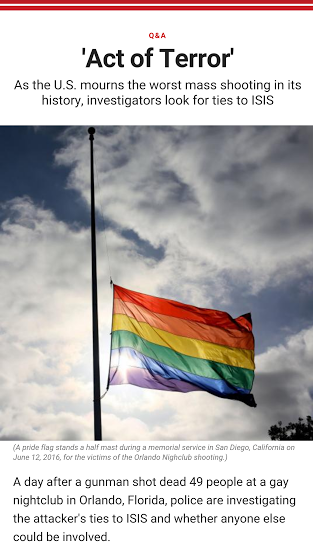 Each interactive story features easy-to-read articles. For instance, this one is currently featured on the CNN account. It is easily scrolled and consumed for readers on the go. There is music to accompany the title of each article. A new one can be generated by swiping to the left and if the title and photo are of interest, then swiping up to reveal the scrollable article below.
The articles are updated frequently and focus on quick, punchy topics of interest. Currently, a feature on the shooter explains all that is known about him to Snapchat users by utilizing a simple, numbered list. Obviously, that is a topic of interest.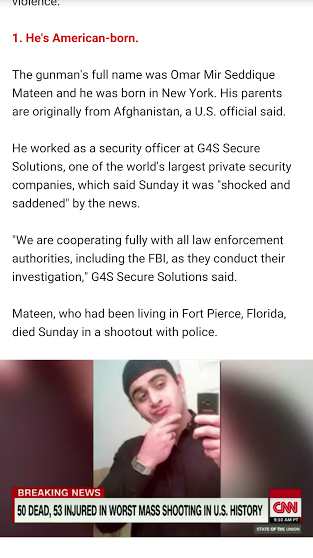 There are also pieces on the frequency of mass shootings in America, ways to help the victims in Orlando, and interviews with witnesses.
CNN's on-the-scene correspondents and social media team are working overtime to update the story being delivered to snappers almost constantly. That effort is commendable because it means that those who use social media are able to get instantaneous updates on an event that is captivating the entire nation.
Props to CNN for recognizing the need to branch out onto different platforms to reach new demographics and for being so thorough in their coverage this way.
[image via screengrab]
For more from Lindsey, go to Twitter or Facebook.
Have a tip we should know? tips@mediaite.com