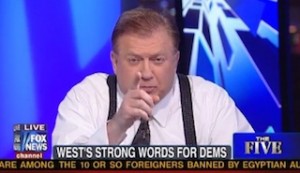 On Tuesday, POLITICO's Keach Hagey published a story on Fox News' "course correction" — a Roger Ailes–backed move — that has many conservatives up in arms. This "Fox moves left" theme is nothing new; last month an activist group called for the re-hiring of Glenn Beck after the network brought in Sally Kohn as a contributor.
Hagey found a contingent of people at CPAC who felt that Fox News' perceived move to the center had lessened the enjoyment of their viewing experience. These former devotees have decided to turn instead to the Internet and Roku boxes to get their fill of conservative news and entertainment — whether it be from Glenn Beck, The Blaze, or a host of other conservative offerings. A sort of niche backlash has swelled up against the network, with many conservatives feeling they've been abandoned.
"I've gone from all Fox to no Fox, and replaced it with CNN, which I think right now is giving me a much fairer analysis of what's going on," John Fredericks told Hagey. "I feel they've lost that independent conservative mantra that had drove people like me to them. I used to feel that I got it straight, and I got an independent conservative view. Now, what I get is some wholly owned subsidiary of the RNC."
RELATED: Jerry Springer Rips Into Fox News, Accuses Network Of Bashing President Obama 'Every Day'
Hagey points out that a casual Fox News observer, "might barely notice the changes," since the network remains critical of the Obama administration and employs stalwart conservative voices, like Sean Hannity and Bill O'Reilly. But the changes, however subtle, are still seen by many viewers — and former viewers — who are seeking new outlets for their news and opinion programming.
But just because there are disgruntled conservatives doesn't mean that Fox News is doomed. Paul Levinson, a professor of media and communications studies at Fordham University and author of a forthcoming updated edition of New New Media, (as well as a contributor to Mediaite), says the strategy is a sound one.
"If Fox wants to increase its viewership, it's a smart move to get slightly less conservative and draw in some people in the middle and slightly to the left," he told Hagey. "If they just stuck to their staunch conservative guns, they wouldn't go anywhere."
Still, there exist those who see change in the network, and don't like it. "For the older generation, like baby boomers Diana and Don Reimer, activists from the Tea Party Patriots in Pennsylvania," Hagey writes, "Fox is still the mainstay. Just not quite the one it used to be."
Have a tip we should know? tips@mediaite.com