Sony's Leaked Projections Show Just How Terribly The Interview Did in Limited Release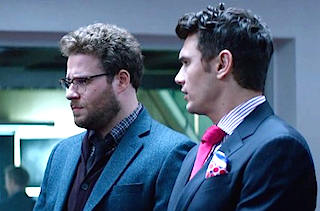 When Sony Pictures reversed its decision to pull The Interview from theaters and announced a limited theatrical release and online rental plan last week, there were more than a few people on social media and elsewhere who suggested that the whole hacking scandal was a marketing ploy to drum up interest in the Seth Rogen–James Franco comedy.
Besides the fact that Sony would never let private emails and personal information into the public just to promote a movie, there was also the issue of the massive amount of money the studio would likely lose without a wide release in major theater chains.
By all accounts, The Interview cost more than $100 million to make and market — before the massive amount of free publicity kicked in — and in order to make the project worthwhile the studio would have to make at least that much in the first few weeks of release in this country and abroad. This fact is apparent in the internal projections that have now been made public thanks to North Korean hackers who posted Sony's massive trove of emails online.
On Monday, Defamer posted initial projections from Sony executive Doug Belgrad, along with a follow-up message once the release date was pushed to Christmas Day. According to Belgrad, Sony expected The Interview to gross between $60 and $110 million domestically with $75 million as a base estimate (with another $25 million in overseas ticket sales).
Over Christmas weekend, The Interview opened in just 331 independent theaters, taking in a total box office gross of $2.851 million. That put it at #16 for the weekend, behind not only The Hobbit: The Battle of the Five Armies, Unbroken and Into the Woods but also smaller Christmas Day films like Big Eyes and Wild, which had the benefit of being shown in four times as many theaters. Even when you look at per-screen averages for the weekend, The Interview's $5,471 was less than 11 other films, including not only American Sniper, which took in an impressive $152,000 average on just four screens but also the more obscure Bollywood film P.K., which averaged $6,629 on 264 screens.
Then of course there was the online release, which Sony said Monday brought in an additional $15 million in sales with more than two million streams of a combination of $5.99 rentals and $14.99 purchases. Those are remarkable numbers, but one also must factor in the reality that the streaming release likely made it easier for the film to be pirated more than 750,000 times. And with a price point that averaged out to less than a standard movie ticket and the film's star urging people to watch in large groups, that $15 million number has to represent a significant amount of lost ticket revenue.
Defamer's Jordan Sargent looked at other major Sony releases with similar domestic box office totals to The Interview's projections — such as Zombieland and 21 — and found that their opening weekend numbers were in the $24-30 million range. That's a good deal larger than the approximately $18 million The Interview took in between theatrical and streaming sales, despite having much wider awareness than any of those films. Based on the first weekend's numbers, Sargent estimated a final box office tally for The Interview closer to $49 million, which is below their worst-case scenario projections. Of course, that worst-case scenario never included terrorist threats on theaters from North Korean hackers.
In the end, The Interview may have been the most-talked about film of 2014 and will likely provide a good amount of fodder for the hosts of the Golden Globes and Oscars next year. And between streaming and illegal downloads it may even be seen by more people than would have watched it before the cyber-attack occurred.
But without a wide release, it will never make as much money for Sony as it would have without the unexpected intervention by North Korea, which proves that once major theater chains started refusing the show the film, the terrorists did indeed win.
[Photo via Sony]
— —
>> Follow Matt Wilstein (@TheMattWilstein) on Twitter
Have a tip we should know? tips@mediaite.com