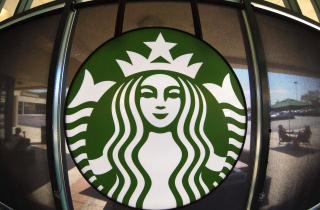 If you thought people waiting in line at Starbucks for a fix of caffeine were impatient enough already, wait until you throw alcohol into the mix too. That's the next step for the company, CEO Troy Alstead explained today in an interview with Bloomberg News. The process will take several years.
The so-called Starbucks Evening program, which sounds like a coffee-themed softcore porn, has been in a trial run for a couple of years in select stores in the Chicago, Seattle, Portland, Los Angeles, D.C., and Atlanta areas, chiefly because urban elites are all hedonistic sinners, but will expand into "thousands" of their 11,500 other locations in the U.S. The reviews for the Chicago and Portland locations on Yelp are rather favorable.
"We've tested it long enough in enough markets — this is a program that works," Alstead explained. "As we bring the evening program to stores, there's a meaningful increase in sales during that time of the day."
That's a lesson they teach in economics classes known as the "If the option to purchase beer exists it will be taken advantage of no matter where you are" model.
There's also another lesson at work here, namely the idea that outside of Starbucks near college campuses, your average person doesn't tend to continue to get jacked up on caffeine as the night wears on.
The move, along with increased, upscale menu food options, so far seems like it's been met with overall positive reactions, but no one in the company has yet addressed the issue of increasing the number of bathrooms available to the suddenly coffee and beer-filled customers by a factor of roughly a million. (Beer makes you urinate.)
Is there a downside? Hard to see one from here, but one reader on the Chicago Tribune's coverage of the news has an idea:
"This company is going out of business. They are now going to serve alcohol that has killed millions but won't allow concealed carryholders inside with guns although there has never been a case where a gun by a carryholder was used illegally in starbucks. I'm glad I don't go there anymore."
Me too.
No word yet on how long it will be before Starbucks unveils their plans for a series of Club Starbucks stores that will feature DJs, bottle service, and velvet ropes along side their trademark bitter, burnt swill.
[Image via Reuters]
— —
>> Luke O'Neil is a journalist and blogger in Boston. Follow him on Twitter (@lukeoneil47).
Have a tip we should know? tips@mediaite.com