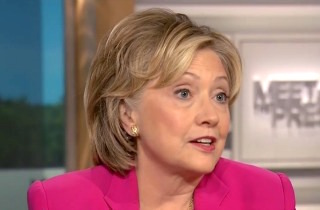 According to a Monday court filling from lawyers with the Republican National Committee, the State Department said that they've been unable to find any emails exchanged between Hillary Clinton and a key former aide to her email investigation.
Bryan Pagliano served as Clinton's information technology specialist, and he was responsible for maintaining the private server she infamously used during her time as Secretary of State. Officials have stated that Pagliano had an official email account of his own, and as the RNC pursues its records with their FOIA lawsuit, their attorneys say the department's look into their correspondence has come up dry.
Pagliano's messages and emails have turned up on the accounts of other Clinton staffers, and State spokeswoman Elizabeth Trudeau maintained that the results meant that their search between 2009 and 2013 remained incomplete:
"The absence of this email file, however, does not indicate that the Department has no emails sent or received by him. In fact, we have previously produced through FOIA and to Congress emails sent and received by Mr. Pagliano during Secretary Clinton's tenure. At no point did the State Department convey to the RNC that we did not intend to produce responsive emails within our possession, consistent with our obligations under the law."
Deputy Communications Director Raj Shah told ABC that the RNC doubts that Pagliano's correspondence with Clinton was so limited, and that the development points to a new level of secrecy in the investigation.
The private server use continues to haunt Clinton, having become a major source of her problems regarding voter trust and competence as she continues her presidential campaign. Pagliano has received immunity from the Department of Justice in exchange for his cooperation as the investigation continues.
Watch Fox's report above.
[h/t Washington Examiner]
[Image via screengrab]
— —
>> Follow Ken Meyer (@KenMeyer91) on Twitter
Have a tip we should know? tips@mediaite.com