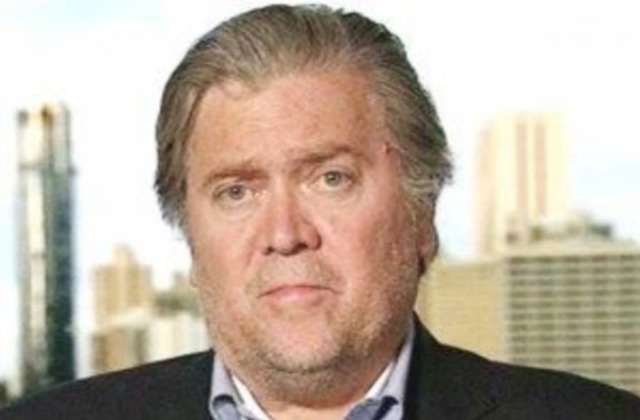 In recent weeks, Breitbart and a number of other right-wing media outlets have engaged in a war against national security adviser H.R. McMaster, leading many to suspect that senior strategist Steve Bannon — former chair of Breitbart and reported foe of McMaster in the new administration — is orchestrating it from within the White House.
And according to a new report in Politico, the constant drumbeat of stories attacking McMaster have only hurt Bannon's standing in the White House.
The report points to a Wall Street Journal editorial out this week that "accused Bannon of using the right-wing media to go after his ideological foes, questioning his loyalty to the president and placing blame for White House dysfunction squarely on his shoulders."
That WSJ assault on Breitbart can almost be seen as emblematic of a proxy war between the more establishment figures in the White House, like McMaster, and the nationalist set that has recently stormed Washington with the rise of Trump.
But Breitbart's anti-McMaster crusade has not endeared Bannon to Gen. John Kelly, Trump's new chief of staff who "has told West Wing staff that he won't tolerate the infighting or anonymous comments to the press" that were common under his predecessor Reince Priebus:
The attacks on McMaster have put Bannon in an especially awkward position with his new boss, retired Marine general John Kelly, who has been increasingly defensive of McMaster, a longtime friend and fellow general, according to interviews with 10 administration officials and people close to the White House. McMaster, who pushed Bannon off the National Security Council principals' committee, hasn't spoken to Bannon in weeks, one senior administration official said.
"The continuing flood of negative stories targeting McMaster has served as a constant reminder that the problem was bigger than Priebus, who resigned two weeks ago," Politico notes.
And Bannon has reportedly run into trouble with the president for allegedly doling out negative stories about his colleagues to Breitbart:
In June, Trump started telling aides that he suspected that Bannon was a source of negative stories, according to aides. After a slew of stories about Bannon "winning" policy wars in the White House—like Trump's decision to pull out of the Paris climate accord—the president told Bannon to "knock it off," according to the senior administration official.

Priebus at one point also warned Bannon. "You've got to get people to stop writing this shit, because people know it's you," the senior administration official said.
Now, Bannon is keeping a low profile: "The guy is desperately trying to lay low and keep his fights from spilling out into the public," a White House official told Politico. "Because he knows that he gets blamed."
[image via screengrab]
—
Follow Aidan McLaughlin (@aidnmclaughlin) on Twitter
Have a tip we should know? tips@mediaite.com
Aidan McLaughlin - Editor in Chief