Steve King: Obama 'Importing Millions of Illegal Aliens' to Expand the Democratic Party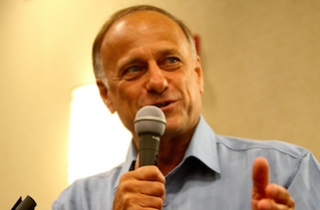 According to Rep. Steve King (R-IA), President Barack Obama's executive actions on immigration reform were meant to expand the Democratic electorate, and are similar to what President Lyndon B. Johnson attempted to do with African-Americans after he signed the 1964 Civil Right Act.
"To put it simply, the president is importing millions of illegal aliens who, when they arrive here, are, he thinks — and he's right — they are undocumented Democrats," King said on the John Fredericks Show, as first clipped by BuzzFeed. "And so the next phase of this is to document these Democrats so they can vote. This is a raw political power move."
King compared Obama's action to those of former President Franklin D. Roosevelt when he tried to add justices to the Supreme Court who were closer to him ideologically. He added that in the case of Obama's immigration actions, Democrats are the "beneficiaries" of the president's "lawlessness."
"It erodes the politics of this country, the respect for the rule of law, and it creates this massive electorate that will likely vote in large numbers for Barack Obama and his party, just like African-Americans have done so after Lyndon Johnson signed the Civil Rights Act — which, by the way, took the majority of Republicans in the House and Senate to make sure that that passed," King continued.
Just last month, King found himself in another controversy after he said he does not understand how American Jews "can be Democrats first and Jewish second," which prompted a response from Jewish Democratic Rep. Steve Israel (D-NY) and a subsequent Twitter war between the two congressmen.
Listen to the audio below, via the John Fredericks Show:
[Image via Wikimedia Commons/Gage Skidmore]
— —
>>Follow Andrew Desiderio (@forza_desiderio) on Twitter
Have a tip we should know? tips@mediaite.com