Stormy Daniels Reportedly Spoke to In Touch in 2011 About 'Textbook Generic' Sex with Trump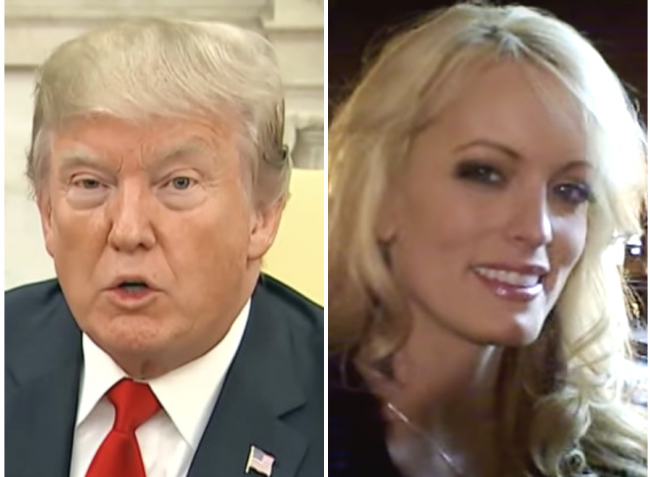 In excerpts from a 2011 interview released by celebrity gossip magazine In Touch, porn star Stormy Daniels goes on the record in claiming she had an extra marital affair with Donald Trump while the now-president was married to Melania Trump.
The sexual relationship was said to have happened in 2006, which was a year after Trump married Melania and the same year that Barron Trump was born. The affair was recently launched back into the public's eye after the Wall Street Journal released a report stating Trump's lawyer paid Daniels $130,000 in hush money to keep the incident under the rug.
According to The Daily Beast, the magazine will publish the full 5,500 word interview with the porn star detailing her relationship with Trump. In Touch claims this full interview will dive into everything from how they hid the affair from Melania to what Trump was like in bed.
While Daniels did sign an NDA with Trump's lawyer, she gave the interview with In Touch in 2011 prior to signing the agreement. Additionally, the publication reportedly used two sources to verify the adult film star's story and made her pass a polygraph test.
In the excerpt released today, In Touch published the following:
"In the new issue of In Touch, on newsstands today, Stormy (given name: Stephanie Clifford) confirms in her own words that she had sex with Donald Trump in his Lake Tahoe, NV, hotel suite in 2006 — a story that was corroborated to In Touch in 2011 by her good friend Randy Spears and supported by her ex-husband Mike Moz. Stormy also took and passed a polygraph test at the time of the interview."
As for the sex itself, Daniels is said to have called it "textbook generic."
"I actually don't even know why I did it, but I do remember while we were having sex, I was like, 'Please, don't try to pay me,'" Daniels said.
The two met at a celebrity golf tournament where Trump got her number. He then invited her to have dinner, which ended up being in Trump's hotel room. The two ordered room service and Daniels got up to use the restroom; when she exited, Trump was laying on the bed and asking her to join him.
Presumably, the rest of the lurid details regarding the president's pre-administration sex life will come out in an upcoming In Touch exclusive — for better or worse.
[image via screengrab]
Follow the author on Twitter (@calebecarma).
Have a tip we should know? tips@mediaite.com