Fox News Reportedly 'Killed' Story on Stormy Daniels, Trump Before 2016 Election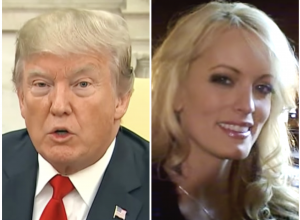 Fox News did not publish a story the network had on the alleged sexual relationship between President Donald Trump and porn actress Stephanie Clifford, who goes by the name Stormy Daniels, during the 2016 presidential election.
Diana Falzone, a Fox News reporter, wrote a story a month before voters went to the polls in 2016 on the alleged relationship between Trump and Clifford. But CNN reports that Fox News ultimately chose not to move forward with the article, with one person familiar to the story saying that Falzone "had the story and Fox killed it":
Falzone had an on-the-record statement from Clifford's manager at the time, Gina Rodriguez, confirming that her client had engaged in a sexual relationship with Trump, three of these people said, and Falzone had even seen emails about a settlement.

But the story never saw the light of the day, to the frustration of Falzone, two of the people said.
The story follows a report that Michael Cohen, an attorney for the Trump Organization in 2006 and now Trump's personal lawyer, arranged for Clifford to receive $130,000 as part of a nondisclosure agreement one month before the 2016 presidential election.
The adult film actress had previously told sources interviewed by The Wall Street Journal that she had a consensual sexual encounter with Trump in 2006, a year after he and Melania Trump were married.
"Like many other outlets, we were working to report the story of Stephanie Clifford's account in October 2016 about then-Presidential candidate Donald Trump and a possible payment by Trump lawyer Michael Cohen," Editor-in-Chief and Vice President of Fox News Digital Noah Kotch said in a statement provided to Mediaite. "In doing our due diligence, we were unable to verify all of the facts and publish a story."
Daniels spoke to Slate Group editor-in-chief Jacob Weisberg a number of times in 2016 before breaking off contact a week before the election, per an article from Weisberg today.
In the Slate report, Clifford is described as having "worked out an agreement for the presidential candidate to pay her a six-figure sum to keep quiet." This document reportedly would have protected the names of all parties involved.
[image via screengrab]
Have a tip we should know? tips@mediaite.com