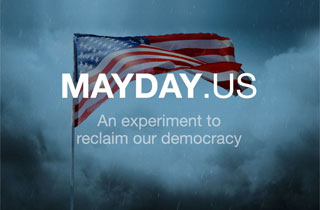 Well, oof. Mayday PAC, the crowdfunded super PAC whose goal was to back candidates interesting in eliminating super PACs, took a brutal beating in this week's midterms, with all but two of their chosen candidates losing by wide margins.
The high-profile project, started by Harvard Law professor Lawrence Lessig, had raised over $12 million, with a combination of crowdfunding and angel investments from Silicon Valley figures, to back candidates interested in campaign finance reform. If successful, Lessig and his team hoped to scale the PAC and back as many candidates as they could in the next few election cycles, and eventually stack Congress with as many campaign finance reformers as possible.
But boy were their results awful: out of the eight candidates they backed on their website, only two won, and according to Politico, they were both incumbents with safe seats. The rest lost badly, despite their high-profile contributions from the Mayday PAC — in some cases, losing by more than 20 points.
According to other campaign finance reform groups, what may have harmed Mayday PAC was probably the very thing that made it famous — its high profile and media hype:
Some donors and operatives in liberal politics believed [Lessig] was siphoning off money that could have spent more effectively by existing groups. In the close-knit world of advocates seeking to reduce the role of money in politics, movement veterans who had spent decades pushing the cause with much less fanfare questioned his tactics and his savvy – albeit mostly privately. His assertions that he could significantly alter the landscape in a short time were seen as backhanded critiques of all the work they'd done to advance the issue – including some victories at the state and federal levels.
In a statement released by his PR firm, Lessig vowed to analyze the data and figure out exactly what happened on Tuesday. "It was a tough night across the board for supporters of reform, but we're glad we engaged in this fight," he said. "The fight to root out corruption in our politics is one of the most important in our time and we will continue to pursue it with fierce urgency."
And in a Tumblr post published today, Lessig snarked at Politico for their coverage:
"For refusing to talk before having the data to have something to say, we earned this piece in Politico. The data is back, so re substance, soon. Meanwhile, note the anonymous members of the "reform" community (believers in transparency, no doubt, all) who demand this 'egg-head' go home. My kids will be so happy!"
[Politico]
[Image via Mayday.US]
—
>> Follow Tina Nguyen (@Tina_Nguyen) on Twitter
Have a tip we should know? tips@mediaite.com