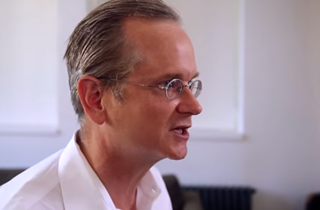 In a true act of creative destruction, Harvard Law professor Lawrence Lessig started a Super PAC with the express goal of eliminating corporate money in politics — namely, by getting rid of Super PACs. (He's well aware of the irony.) Today, Mayday.us reached its second milestone: a crowdfunding campaign raised over $5 million in less than a month. (And they did it without LeVar Burton!)
The money, according to Lessig, will go towards supporting candidates committed to serious campaign finance reform. At the moment, Mayday hasn't selected the candidates they want to support, but are committed to making sure they win: "We will not only win those races, but do it in a way that it is clear to all observers that the issue of corruption turned the tide of the election," Lessig writes on Mayday.us.
In addition, five Silicon Valley billionaires (Peter Thiel, Reid Hoffman, Union Square Ventures' Fred Wilson and Brad Burnham, and TED's Chris Anderson) donated $1 million to the Super PAC. One of Lessig's key talking points is that the tech industry has a vested interest in eliminating Super PACS, as he told TechCrunch: "We have no protection for network neutrality because of the enormous influence of cable company's money in the political system…If NN is your issue, then this is why you should see that politics is your issue too."
Their next goal: raise $12 million by the November midterms. (UPDATE:: We received a clarification that the $12 million had already been raised, since the $5 million campaign will be matched by "donors yet to be announced," and will go towards supporting five mystery candidates. QUICK LET'S BET ON WHO THEY ARE IN THE COMMENTS.) The ultimate goal: to elect "a Congress committed to fundamental reform by 2016." Once they reach that point, Lessig will probably blow up his own Super PAC like so many Iron Man suits.
[TechCrunch]
[Image via screenshot]
—
>> Follow Tina Nguyen (@Tina_Nguyen) on Twitter
Have a tip we should know? tips@mediaite.com