Tamron Hall Shares Emotional Story With People About Her Domestic Abuse Advocacy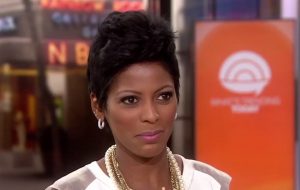 MSNBC's Tamron Hall has launched The Tamron ♥ Renate Fund in honor of her sister, who was found dead after being in an abusive relationship for years.
In a new interview with People, she discussed her sister, Renate, and her legacy, even sharing that after watching her sister take back her abuser after seeing her injuries first-hand, Hall cut her off for an extended period of time. Thankfully, they reconciled before her sister's death.
"Our family is very strong and close-knit, but we didn't know what to say. We couldn't run in and grab [Renate] out of that environment. We didn't want to tell her she was making a bad decision," Hall explained to the magazine of her family's confusion regarding the situation.
The fund was established to make sure no other family every has to feel that way. It acts as a resource for family members and friends of victims of domestic violence. She explained it like this:
You can't just Google, "What do I do when my friend is being abused?" It's much more comforting a person on the other line. You can't call 911 because you suspect there's abuse. What this fund will do is provide resources to help family members, so that someone can call and say, "My sister is being abused and I don't know what to do."
Hall, so often a jovial person and good sport, knows when to make her personal anguish part of the story and when to back off. A few months ago, after the death of her friend Prince, she allegedly turned down anchoring NBC's Nightly News for an evening to avoid reporting on what caused his death.
[image via screengrab]
Have a tip we should know? tips@mediaite.com