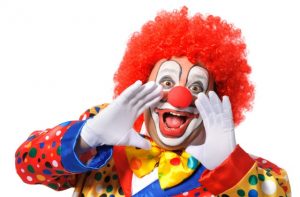 There is a large group of people in this country who feel anyone who looks like them is being unfairly targeted for scorn or worse. And so they're starting a movement to declare to the world that their lives should matter as much as everyone else's.
I'm talking, of course, about clowns.
There's been a surprising uptick in creepy clowns (or at least an uptick in the media reporting on creepy clowns), and some people are very nervous about seeing clowns in public. This got so bad that President Obama's press secretary was asked about it
Well, some professional clowns have had enough and are starting, for real, Clown Lives Matter.
Yes, Black Lives Matter spawned kind of a surprising bandwagon for basically every group and every person to pick something else that matters and proudly declare it too.
One professional clown got "Clown Lives Matter" going on his Facebook page, saying in one post, "Us actors need to be heard! I'm not your enemy! I'm an actor!"
There is going to be a "Clown Lives Matter" peace walk in Tucson next week and no less than Stephen King is telling people to calm down:
Hey, guys, time to cool the clown hysteria–most of em are good, cheer up the kiddies, make people laugh.

— Stephen King (@StephenKing) October 3, 2016
Oh, and "Clown Lives Matter" blew up into a major Twitter trend today:
Me, after waking up to "Clown Lives Matter" trending on Twitter… pic.twitter.com/9R2iQ0BVdt

— Michael Berres (@mikeberres77) October 6, 2016
I just woke up and saw Clown Lives Matter trending. I've officially lost faith in humanity. pic.twitter.com/b0k0dJrKLL

— IGonz (@IGonzYT) October 6, 2016
Clown Lives Matter is trending #WhyIHateTwitterIn5Words

— ?Your Suzerain? (@whosursuzerain) October 6, 2016
There's a Clown Lives Matter march planned for Oct 15. Hundreds of thousands are expected to attend, all coming in one car.

— Evan Sayet (@EvanSayet) October 6, 2016
Opens Twitter, sees "Clown Lives Matter" trending: pic.twitter.com/kLwZGq71iV

— TrivWorks (@TrivWorks) October 6, 2016
• Clowns are terrorizing the city.
• An power-mad Billionaire is running for President.

We need, The Batman.

Clown Lives Matter. ? pic.twitter.com/zdimxTC55O

— NUFF$AID (@nuffsaidNY) October 6, 2016
– sees "Clown Lives Matter" trending

– sighs

– decides not to click

– shudders remembering clown scene in 'Pee-wee's Big Adventure'

— Ryan Parker (@TheRyanParker) October 6, 2016
"Clown lives matter"…seriously?? POC are dying every day just for existing and you think it's cute to turn the hashtag into a joke. Again

— Andy Ward (@sirenty_) October 6, 2016
*sees clown lives matter movement*
*loses faith in humanity*

— Sonny (@theywantsonnyd) October 6, 2016
the Clown Lives Matter thing is nothing but racist and mocking black lives matter. like. im not even gonna waste my time on that. lol

— Richey Collazo (@RicheyCollazo) October 6, 2016
[image via Shutterstock]
— —
Follow Josh Feldman on Twitter: @feldmaniac
Have a tip we should know? tips@mediaite.com
Josh Feldman - Senior Editor