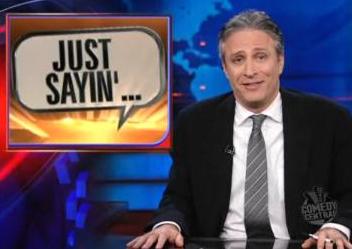 Often when The Daily Show goes after cable news, it looks at each of the big three – Fox News, CNN and MSNBC – and highlights a common theme to ridicule. That wasn't the case last night, when Jon Stewart looked at why CNN might currently be "getting their asses handed to them by Fox News," and now being edged by MSNBC in prime time.
Stewart's conclusion – "slangtastic" new segments that don't really work.
At the center of Stewart's ire was a Friday segment on American Morning from Carol Costello called Just Sayin'. Costello talks about actual issues – like town halls, feminism and more – and ends the bit with a "Just Sayin'" comment. "They report the news like I talk…ed when I was a 12-year-old girl," said Stewart.
But that was just the beginning.
It's as bit disingenuous to pop up CNN's prime time ratings and then spent the entire segment poking fun at CNN for recurring segments that run during morning and afternoon hours. But it does highlight a problem CNN needs to address – how to keep viewers around when there aren't big news events, which the network still regularly owns. These segments, just like the huge emphasis on connecting with viewers through Twitter and other means with on-air talent, don't seem to be the way to go long term.
Here's the clip:
Have a tip we should know? tips@mediaite.com