The NY Daily News Alleged Trump is Pals With the Enquirer's Top Dog Months Before Cruz Did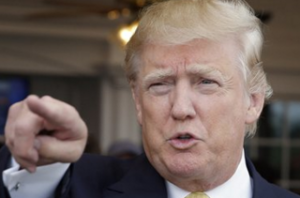 A few minutes ago, Ted Cruz responded to the rumors spread by The National Enquirer that he has five mistresses. The rumor was especially timely given Donald Trump's recent threats to "spill the beans" about his wife, Heidi Cruz, and his response that Heidi is the love of his life.
Cruz's latest response looks like this:
I want to be crystal clear: these attacks are garbage. For Donald J. Trump to enlist his friends at the National…

Posted by Ted Cruz on Friday, March 25, 2016
Note that he accused Trump of "enlisting" his friends at The Enquirer. He's not the first person to make the allegation that Trump has that particular publication in his pocket. The New York Daily News asserted that back in August of 2015, a few months into Trump's presidential run.
From the piece called, "When it comes to Donald Trump, tabloid won't Enquire too deeply," we get this:
Industry insiders tell us Trump is "very close" with David Pecker, head of The National Enquirer and CEO and chairman of American Media, which means the outlet is unlikely to dig too deeply into his personal life as he campaigns.
Digging into his personal life might involve talking about Marla Maples, the woman with whom Trump cheated on Ivana Trump. The Daily News' team didn't believe that would happen, even months ago when they found a source who said that "Trump is a big friend of Pecker."
Finally, it is worth noting that whether Trump and Pecker are close or not, The Enquirer did recently endorse him for president.
[image via screengrab]
For more from Lindsey, follow her on Twitter.
This is an opinion piece. The views expressed in this article are those of just the author.