The Radio Diaries: Adventures in Hosting a Week's Worth of Talk Shows on Sirius XM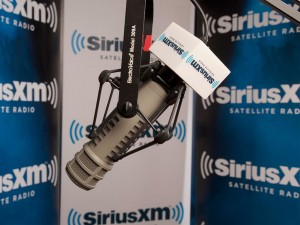 An old friend — perhaps in an effort to help himself fall asleep — recently asked me what I enjoy doing most: Writing or television?
Answer: Neither.
Instead, the top choice happens to radio. There's just something more organic, natural, less restrained and more relaxed in doing radio than there is on television, which tends to oftentimes feel rushed and restrained with a commercial break always seemingly looming. And the best part about an audio-only medium is avoiding the makeup process, hair process, finding suits that don't need to be pressed or ties that need to be chosen. Most of the time when doing radio spots, the experience here has been to conduct such conversations from the couch… usually sans shoes and sporting one of 167 baseball caps owned. And all it takes 10-12 minutes and a landline…
So you can imagine how exciting it is to be chosen to do six shows on Sirius XM Insight (Channel 121) starting this week from noon-1:00 PM. Best part: Management has basically granted me carte blanche on guest booking the shows, which (as a former booker) is a particularly fun exercise when building out the week.
The plan on this front was to find different kinds of personalities from various networks and formats in an effort to offer up a broad array of voices. As written in the space many times before, echo chambers are boring and predictable. As are phonies in the business who take themselves way too seriously. No thanks on both fronts…
So while the plan seems fairly straightforward, it does offer some hurdles. For example, when contacting any desired guest from the world of cable news who is under contract (thereby making them exclusive to that network in almost all cases), the process must go through PR first. All of these folks are helpful and friendly, but that doesn't necessarily mean you can pick and choose any name from the talent roster like drafting a fantasy football team unopposed.
Primary prerequisite: To land not necessarily the biggest star or name, but those who have a compelling bio and, more importantly, who would be an authentic, unfiltered and witty interview. Added bonus: Sirius is located right across the street from Fox News and NBC/MSNBC and less than a mile from CNN, making in-studio bookings (which are much preferred to allow for eye contact and the non-verbal cues that goes along with it) much more doable.
Note: All of these guests from cable news will be on the show on different days.
Fox News: Jesse Watters. He's gone from a producer working behind the scenes to man on the street guru to landing his own weekend program in November. Much tougher than it looks, as cable news execs frown upon using producers as anything other than, well… producers. The 37-year-old is one the few folks in cable news who actually can make comedy work, and he accomplishes the feat invariably on the fly. He's Watters… and this is his world.
MSNBC: Joe Scarborough, Mika Brzezinski, Steve Kornacki. If the goal is to find hosts that know impromptu conversation, it's hard to imagine anyone who knows an unscripted format better than the Morning Joe co-hosts given the hundreds of hours they quarterback in this world each year. And Kornacki — as noted in this space recently — is one of the more underrated assets in cable news given his computer-like knowledge of all-things-political (nickname: The Wizard). Additional Note: Scarborough and Brzezinski will join the show separately from Kornacki on different days.
Ashleigh Banfield, CNN: Joined her a few times on CNN and was always impressed with her effortless humor and raw energy. And after reading her bio more closely, there was clearly plenty to work with: The overseas reporting in Kabul and Pakistan, interviewing members of the Taliban, going into labor while on the air at Court TV during her first day on the job (baby was six weeks early), and her glorious-turned-rocky relationship with NBC all added up to filling 28 minutes of airtime quite easily. You can hear a small portion of the interview here, which includes a time Donald Trump called her the "C" word (no, not that C word).
Other guests include Sharyl Attkisson, award-winning investigative reporter, Carol Roth of CNBC and America's Greatest Makers on TBS, comedian Ben Kissel, Brad Hirschfield, Washington Post contributor, Noah Rothman, formerly of Mediaite and currently an editor at Commentary Magazine, Gayle Trotter, contributor for The Hill and frequent guest of Fox's Media Buzz, Scottie Nell Hughes, Donald Trump supporter, and Nomiki Konst, Bernie Sanders surrogate and ubiquitous cable news guest. There are others who are strong maybes right now, so the work isn't done on this front quite yet.
Television may be sexier, but radio really is the best if free-flowing discussion is the top priority… particularly with the lack of regulation that allows an expletive to slip out without repercussion and on a platform with almost no commercials, thanks to its revolutionary pay-for-content model that just eclipsed an impressive 30 million subscribers and counting. Context: That's four million more people than the entire population of Texas.
For a Sirius offering that had just one million subscribers in 2004, it shows just how many listeners are embracing the pay-for-content business model over a free (albeit, commercial-laden and regulated) alternative. In 2015 alone, Sirius added nearly 2.3 million additional subscribers. The momentum is real.
The media business can be a tough one, particularly when hosting something is the goal. Getting ahead in any capacity without inherent connections or nepotism always feels like swimming upstream, especially in the most competitive city of them all, New York.
Television is a blast. Writing is the ultimate escape. But radio beats 'em both…
So when an opportunity like this comes your way, it makes the long, hard slog navigating the career swamp well worth it.
>>Follow Joe Concha on Twitter @JoeConchaTV
This is an opinion piece. The views expressed in this article are those of just the author.