School Sued By Student's Parents For Giving Dora the Explorer Actress Preferential Treatment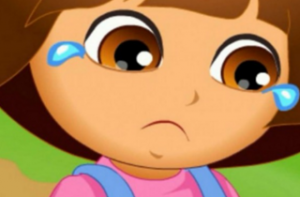 This story has it all: private school drama, a vape pen, and the voice actress who plays Dora the Explorer. Seriously, there won't be a more perfect story this year.
It all started last year, when 15-year-old Fátima Ptacek, the actress who voices Dora, was caught with an unnamed friend vaping in the bathroom at Avenues: The World School in New York City. An older girl at the school ratted them out to the administration, according to The Daily News. The friend was forced out of the school; Ptacek was suspended for three days.
For those of you who don't know, vaping is essentially just heating up flavored water and sucking it through an expensive machine that sometimes looks like a pen. This latest fad is just a new spin on e-cigarettes and it is controversial. Sometimes, tobacco is added into the flavorful liquid, but in the case of Ptacek and her cohort, there was no tobacco; they were really just inhaling water.
The parents of the expelled student filed suit in the state Supreme Court, claiming that officials had justified the expulsion of the girl by saying they didn't find her trustworthy, but declining to say how. The expelled student and Ptacek both gave accounts to administrators about their smoking.
A rep for Avenues told The Daily News this:
Avenues has very high standards of conduct …and follows a fair and appropriate process when there are infractions. We know students will make mistakes and inappropriate choices. But we expect them to take accountability for them and behave honorably moving forward.
The parents are seeking $40,000 in damages, which is what one year of tuition at Avenues costs. They also want their daughter reinstated at the school.
[image via screengrab]
For more from Lindsey, follow her on Twitter.
Have a tip we should know? tips@mediaite.com