The Saga Continues: Rachel Roy Reportedly Turns to LAPD as She Continues to Be Hacked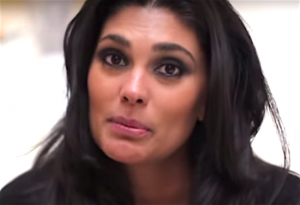 Did you think the Lemonade-related headlines were over?! Did you think Beyoncé was just going to disappear from the news cycle as the election heated up?! You were wrong. Lemonade is far from over; Lemonade has just begun.
To catch you up, Bey put brewed up her hour-long Lemonade spectacle a few months ago, making references to what many believe to be husband Jay Z's infidelities throughout. One line, in particular, referenced a "Becky with the good hair" who was presumably one of Jay's things on the side. Fashion designer Rachel Roy posted an Instagram selfie a few minutes later captioned, "Good hair, don't care," and was immediately spammed by Beyoncé fans for having the audacity 1. to be the Other Woman in one of the most powerful relationships of our time and 2. to brag about it/try to brush off the call-out on Instagram.
She (and poor Rachael Ray, for obvious, if unfortunate, reasons) faced harassment and reportedly received threats,ultimately leading her to privatize her Instagram and even complain to friends that her email had been hacked.
TMZ is reporting that now, she's gone to the police. It wasn't just her Gmail account that was hacked, but her iCloud account, too. Moreover, reports indicate that someone changed her phone number without her authorization. TMZ is claiming that the LAPD has search warrants to dig into some phone and email records in the hopes of figuring out if Roy's conviction that she's still being targeted by BeyHive members is correct.
Anyway, never forget that Bey's mom said Lemonade was really all about "hope and redemption."
[image via screengrab]
Have a tip we should know? tips@mediaite.com