There's Going to Be a Reality Show About Having Sex in a Box… Called Sex Box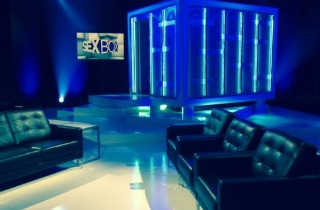 Anyone want to stage an intervention for the people who make reality TV shows? Maybe it's time, because WE tv has officially ordered a new reality show called Sex Box. What's the premise? It's literally all about people having sex in a box.
Take a moment to let that sink in.
WE tv, the network with lots of different reality shows about celebrities (and future home to a Charlie Sheen quiz show [?!]), ordered Sex Box to series. Now, it should be noted that it's not a wholly original idea, it's based on a British show of the same name, but still.
So just to clarify, this show is going to be about couples getting their freak on in a giant box (don't worry, it's soundproof), only to come out minutes later and, get this, talk about the sex they had. With that in mind, here's how the president of WE tv describes the show.
"Sex Box is one of the most unique and compelling show concepts we've ever seen, and we can't wait to bring it to WE tv. Our featured couples will get a once-in-a-lifetime experience, while our viewers will get the kind of bold, break-through-the-clutter programming they increasingly associate with WE tv."
Oh, and the post-coitus conversation will involve a panel of experts making observations "ranging from what they think is happening inside the box to whether or not the relationship will survive."
Sex Box. Yes.
[h/t CNN]
[image via WE tv]
— —
Follow Josh Feldman on Twitter: @feldmaniac
Have a tip we should know? tips@mediaite.com
Josh Feldman - Senior Editor