'These Are Not Guys in Shower Shoes and Bathrobes': Potential VP Gen. Flynn Dishes on ISIS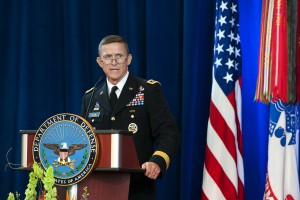 Despite the fact that he has been a member of the Democratic party, retired Lieutenant General Michael Flynn has found himself on the short list to be considered as Donald Trump's Vice President. Lt. Gen. Flynn is the author of The Field of Fight: How We Can Win the Global War Against Radical Islam and Its Allies, a book and strategy that he discussed this morning on The Joe Piscopo Show on AM 970 The Answer.
"As long as this isn't an audition for Saturday Night Live I'll talk to ya," joked Flynn to the former SNL cast member Piscopo. "My goal was to have it out before both conventions, because my hope was that whoever would be President would read the damn thing," he said of his book.
Lt. Gen Flynn said that the key to defeating the growing threat of the Islamic State comes from effectively discrediting its ideology. "I lay out, very specifically, fourteen points," he told Piscopo Thursday morning, noting the importance of an alliance against the very notion of radical Islamism. "The leaders of the Muslim world have to be taken to task."
"We need strategic planning that looks past four years or eight years in the White House," he continued. "These are not guys in shower shoes and bathrobes. These are guys who are smart, cunning, and have a plan," he said of ISIS
"It's so nice to have somebody with a plan," said Piscopo to Flynn, who — perhaps in a prescient move of perfect Trump alignment — also spoke to the necessity of "winning" not only the war on ISIS, but as an American mentality.
Listen above via AM 970 The Answer.
—
Have a tip we should know? tips@mediaite.com