This Exists? Strip Club's Sarah Palin Look Alike Contest to Benefit 'Tea Party'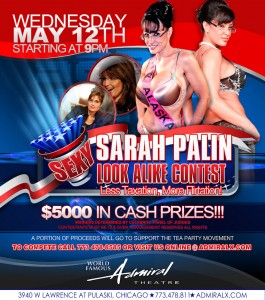 Chicago's Admiral Theatre has announced plans to hold a Sarah Palin "Look A Like Contest and Tea Party Benefit" on May 12, the same day the GOP's last superstar is scheduled to appear at an Illinois Republican fundraiser with ticket prices up to $25,000. The tickets to the strip show are a more reasonable $20 bucks a pop, the prize is $5000 cash, and a portion of the proceeds go to the "Tea Party Campaign."
While this is clearly part of a series of pop-cultural attempts to sexually humiliate Palin, you have to also wonder: who is the audience is for this kind of thing?

Lest you doubt that this is humiliation, rather than simple exploitation, the Admiral has classily invited the real Sarah Palin to judge their slate of disrobing doppelgängers. This is pretty consistent with other Palin-esque porn endeavors. Hustler's Nailin' Palin series, for example,  features "fantasies" of Palin with Barack Obama and David Letterman, certainly not designed to appeal to her supporters.
On the other hand, much of the Palin fantasy art that I've seen, despite being overwhelmingly designed to mock her, also seems like it would be aesthetically pleasing to the masses of Palin supporters for whom her sex appeal resonates. It seems to me these artists are missing a golden marketing opportunity by stacking their Palin pinups against her biggest fans.
Despite the anti-Palin slant, it would be interesting to poll the audience at this event to find out how many conservatives would be able to check their disgust at the door and enjoy the show. It would also be revealing to interview those attendees with hostility toward Palin. I don't understand the psychology of either group.
Congressman and Republican Senate candidate Mark Kirk will be notably absent at that fundraiser that Palin is scheduled to attend, but he won't be at the Ambassador, either. He'll be staying in DC for House votes. Kirk is running for Barack Obama's old seat, and asked for, but did not get, an endorsement from Palin.
Have a tip we should know? tips@mediaite.com