This Olympic Swimmer Mentioned Getting Her Period and Now She's a Taboo-Smashing Hero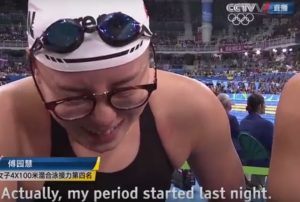 Simone Biles and Simone Manuel have been break-out stars during this year's Summer Olympics thanks to their incredible athleticism, but there have been others who have shone in very different ways. Chinese swimmer Fu Yuanhui, for instance, took the Internet by storm with her expressive reaction to winning a medal. Her faces have been memed and re-memed all month!
As if she wasn't already an online superstar, Yuanhui took her new idol status to an unprecedented level last Sunday. During an interview, she explained that she felt like she didn't do her best in a race because her period had just started. In case you aren't aware, there is a practically impenetrable wall of stigma around female athletes having periods, which is pretty silly considering there are entire tampon brands designed for active women.
Okay. That isn't quite true. The wall of stigma isn't impenetrable anymore because Yuanhui (and a few others this year) cracked it. Look at the reactions:
Thank you, Fu Yuanhui, for using your voice to challenge taboos about menstruation. https://t.co/O1mqt6BsFQ

— Melinda Gates (@melindagates) August 16, 2016
Fu Yuanhui talking about her period is the Olympic hero I can relate to

— Tali Aualiitia (@taliaualiitia) August 16, 2016
From Melinda Gates to the average tweeter, women took notice of what Yuanhui so casually said. The swimmer's words really resonated. We wondered why, so we reached out to Playtex Sport and made a few startling discoveries: After conducting a study, Playtex Sport found that 64% of young women admit to feeling "period shame" and a whopping 75% of young women say they frequently choose not to play a sport or exercise when they're on their period.
Yet another shocking element to this story is how popular it became on Chinese social networking sites. Quartz found that 500,000 people searched for articles and information about Yuanhui's comments. Some of those people also searched for answers to questions like, "Why wasn't there blood in the pool?" Periods are so stigmatized in China that many residents didn't even realize it was possible to swim or exercise during that time of the month. If you're having trouble grasping why what Yuanhui did is barrier-breaking, just consider that. Consider the impact this will have on young Chinese girls who will now see that Olympic athletes still compete and live their lives during that week.
Yuanhui isn't entirely alone, of course. Other big-name female athletes have been slowly chipping away at the stigma by speaking out in interviews or partnering with brands like Playtex Sport on campaigns to keep young girls involved in sports. Yuanhui seems to have spent the last few days trending because of her comments because of her personality, meteoric online fame, and the public's general annoyance with waiting for this taboo to run its course.
Whether this means that the stigma — in China, in sports, and beyond — is completely defeated remains to be seen, but the future is looking good for athletes like Yuanhui and the girls they inspire. After all, like President Barack Obama says, "playing like a girl means you're a badass."
[image via screengrab]
Have a tip we should know? tips@mediaite.com