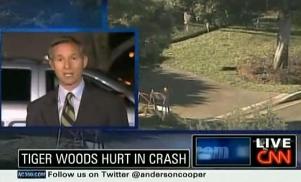 As more details emerged about the circumstances of the Tiger Woods car crash, the more suspicions were raised that there may be more to the story.
Now TMZ.com has blown the reported version of events wide open – alleging domestic violence led to the injuries, and the car crash was used as a cover up.
Early this morning, TMZ reports Woods and his wife Elin Nordegren were involved in a physically violent fight:
We're told he said his wife had confronted him about reports that he was seeing another woman. The argument got heated and, according to our source, she scratched his face up. We're told it was then Woods beat a hasty retreat for his SUV — but according to our source, Woods says his wife followed behind with a golf club. As Tiger drove away, she struck the vehicle several times with the club
He hit the fire hydrant after becoming distracted, according to TMZ. The reason he appeared "semi-unconscious," as the Windermere police chief said on CNN last night (video below), is explained by TMZ as because Woods "had been taking prescription pain medication for an injury."
Before we go any further, it should be noted TMZ has a history of being completely right sometimes about their exclusive breaking stories – and sometimes gets it completely wrong.
The timing of the accident was already suspicious, coming just days after the usually flawless PR record of Woods was being mired in some level of controversy. The National Enquirer reported Woods was having an affair with New York club hostess Rachel Uchitel – a storyline that this morning has become part of the Associated Press' story. The AP reached out to Uchitel, and she denied the affair, but this quote doesn't exactly sound like a denial: "I resent my reputation is getting completely blasted in the media…Everyone is assuming I came out and said this. This is not a story I have anything to do with."
So how did this story's topspin land it away from the truth? Jason Whitlock, columnist for FoxSports.com and frequent contrarian sports writer, tweets, "U think Tiger is real happy w/ESPN's 'seriously injured' report that blew this thing out of proportion? Worldwide misleader."
If ESPN initially reported "seriously injured" while simultaneously buying 100% the Woods spokesperson party line, as well as the public statements from the police, they have changed their tune a bit. Bob Harig's column is getting front page play, which questions what happened in the accident, but the majority asks what would happen if the injury were more serious, and not what would happen if the truth were more hurtful to Woods' reputation. ESPN is reporting Woods will meet with police again today – more details are likely to emerge. If TMZ has any of the story right, this story will bubble up to mainstream media status very shortly.
Here's the CNN report from Anderson Cooper 360 last night:

—–
» Follow Steve Krakauer on Twitter
Have a tip we should know? tips@mediaite.com