'Til Money Do You Part: Court Fines Georgia Man for Breaking Marriage Promise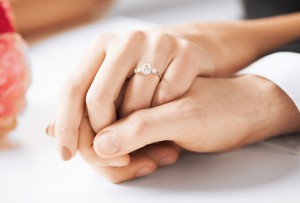 If you live with a woman for more than ten years, and in that time period, you buy her an expensive engagement ring and have a child with her, to then indicate you're not really into the whole "wedding" thing… it will not end well. And that appears to be what happened to a man in Georgia who ended up getting ordered by a court to pay $50,000 over a broken promise.
Christopher Kelly gave his fiancé Melissa Cooper a $10,000 engagement ring, and they spent a large chunk of their lives together, but after she caught him cheating on her for the second time, she demanded he move out and decided to sue him for "breach of promise to marry." Kelly's legal argument is, to say the least, a unique one.
Kelley tried to claim his promise to marry couldn't be enforced partly because the nature of the couple's relationship was based based on an illegal pact.

Kelley's defense essentially claimed their relationship was a form of prostitution, where Kelley was simply paying Cooper for sexual relations.

He also claimed in court that he never really intended to marry her, "I never initiated the concept of marriage with her, outside of giving her that ring" and "I never said the words 'will you marry me' to her."
So, of course, Cooper won the case, and she is now owed $50,000 in damages and attorneys' fees. A wedding would have been cheaper.
[photo via Shutterstock]
— —
Follow Josh Feldman on Twitter: @feldmaniac
Have a tip we should know? tips@mediaite.com
Josh Feldman - Senior Editor