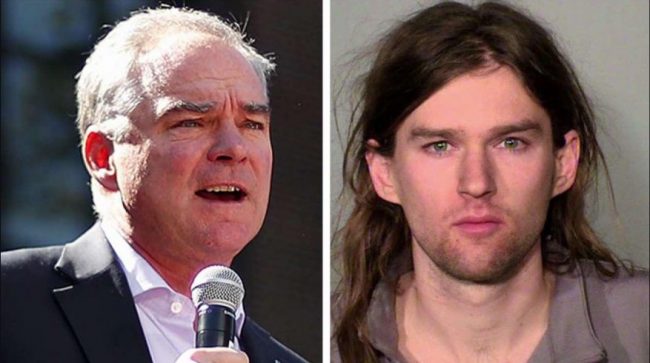 Linwood "Woody" Kaine, the younger son of Hillary Clinton's running mate, Tim Kaine, was arrested Saturday on suspicion of participating in a counter-protest that disrupted a pro-Donald Trump rally inside the Minnesota State Capitol in Saint Paul. The anti-Trump protesters tossed a smoke bomb that hit a woman, set off fireworks, and sprayed the Trump backers with a chemical that caused coughing.
The St. Paul Pioneer Press was among the first to report on Linwood Kaine's arrest. The newspaper's Tuesday evening article disclosed that the son of the Virginia Democratic senator was "seen with four people who lit fireworks inside the Capitol… Police are investigating whether Kaine was one of the people who was lighting the devices."
Kaine was picked up by police less than a block away from the building, and reportedly "turned around and squared up to fight with the officer." He was only released from police custody on Tuesday. Charges against the younger Kaine are pending, but he is suspected to be charged with inciting a riot-second degree, a misdemeanor.
Derek Hawkins of The Washington Post gave additional details on the arrest of Senator Kaine's son in a Wednesday morning article. The younger Kaine, who currently lives in Minneapolis, was "among about 50 counterprotesters who clashed with pro-Trump demonstrators Saturday afternoon."
Senator Kaine and his wife, Anne, issued a brief statement on their son's arrest. "We love that our three children have their own views and concerns about current political issues," the duo said. "They fully understand the responsibility to express those concerns peacefully."
The Washington Post reporter later pointed out that violence marred another pro-Trump rally in Berkeley, California on Saturday. A clash between pro and anti-Trump protesters led to the arrest of five people in the college town.
[image via screengrab]
Have a tip we should know? [email protected]