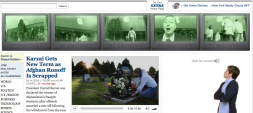 A short glimpse at how the New York Times lives now:
The Times has already made the easier decisions — reducing the support staff, cutting freelance budgets, capping expense-account meals, seeking bargain airfares and hotels, rotating foreign correspondents every five years instead of four, and housing some bureaus in correspondents' homes rather than downtown offices. The nice car and driver for the London bureau chief? History.
Wow. Even though many of these reduced accouterments would be considered a luxury by most bloggers, there's still something a little sad about the fact the Internet has drained any last shred of glamor out of the reporters life. Perhaps the Times should consider draining some of its online excess in order to prop up the more important part of its print. Executive editor Bill Keller says "they will look at the 70 blogs on the paper's Web site to see if any are not justifying themselves."
I can tell you without even going through the whole list that some of those 70 blogs are definitely not justifying themselves. The best example of a NYT.com blog are the Caucus, or the Lede, or Media Decoder, which allow the paper's reporters to post shorter items and keep up with the online news pace. The rest could arguably be folded into the paper itself. The NYT is to be commended for both jumping into the Internet world with such fearlessness, but now that push is really coming to shove, it is perhaps time for the Times to cease launching a blog for every subject that grabs its attention. The distance between the online world and the print world is narrowing at a terrific pace, something the Times has played a large role in. The next logical step is to streamline to two entities, folding in best bits of both, and leaving the excess behind.
(h/t Peter Feld)
Have a tip we should know? tips@mediaite.com