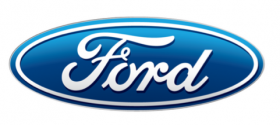 Big news broke this morning from the Ford Motor Company: Despite a crippling recession and the worst market for American car manufacturers since horses & buggies, the company announced today that it had made nearly $1 billion in profits in its third quarter. Ford said it expects to be "solidly profitable" in 2011.
Per the Detroit Free Press:
Ford Motor Co. today reported net income of $997 million, or 29 cents per share, compared with a net loss of $161 million, or 7 cents per share, a year ago. Even the company's long-struggling North American division reported a pre-tax operating profit of $357 million — its first profitable quarter since the first quarter of 2005… Analysts, on average, were expecting Ford to report a loss of 12 cents per share, before one-time charges, for the three months ending Sept. 30, according to estimates from Thomson One Analytics.
…and per the AP:
Ford Motors says it made nearly $1 billion in the third quarter, fueled by U.S. market share gains, cost cuts and the government's Cash for Clunkers rebates.
Here's what I'm wondering: Could it have also been fueled by something else?
Despite the fact that Ford Social Media maven Scott Monty seems to be sleeping through this morning's announcement, he's been at the forefront of a new strategy for automakers: Social Media.
Ford has been ambitious in getting out front on social media, through Monty — now a ubiquitous social media personality (invited to the 90th Anniversary of the Algonquin Roundtable, no less!). And despite a minor kerfuffle about Monty being the star brand, not Ford (which presumably resulted in the @Ford Twitter account, which has 18K followers to Monty's 32K), Ford clearly sees a benefit: According to BusinessWeek, the automaker will spend 25% of their marketing budget on digital and social media this year. Compare and contrast to the average for the rest of the industry: 9%.
Ford's big push has been its "Fiesta Movement" for a car that isn't even available yet (a good indication of successful penetration is me having actually heard of the Ford Fiesta, and thinking it was already out). Here's Ford from early summer, kvelling over the results:
Ford's strategy is betting on the continued rise in social media's popularity, and its online numbers reflect the buzz. Agent postings have garnered significant numbers on social media sites through the first quarter of the Fiesta Movement – more than 1.8 million YouTube views, more than 270,000 Flickr views and more than 1.8 million Twitter impressions, resulting in more than 13.2 million interactions.
It is, of course, hard to know whether a giant marketing push for a car that isn't even available yet has translated into customers plunking down their hard-earned (and scarce!) cash for a Ford-made vehicle. Certainly Ford has been making a lot of noise in social media — and getting a LOT of press for it (Google "Scott Monty" for the glowing headlines). Here are just a few of the programs they've run, via TopRank's Online Marketing Blog:
Summer of Taurus. Senior leaders (including Senior Legal Counsel) to Tweetups and test drive events.
The Ford Story. New feature, your stories. Consumers are invited to provide their stories about how Ford has impacted their lives over the years. Different categories of stories ranging from Ford families to interests in green technology.
What people do to be green (Facebook)
the2010Mustang.com web site offers content creation and sharing on social sites features.
PlaidNation.com – gave them a Ford Flex as the vehicle they're using to cross country.
WeddingRoadTrip.com – Couple drove cross country to see everyone they would have invited to the wedding to get advice. Gained media coverage and social media exposure. They go married and are now known as Mr & Mrs Ford.
FiestaMovement.com – Relaunched in Europe last year. #2 most popular car in Europe overall. Program to give a Ford Fiesta to a number of digital influencers for a year. Obligation was to post a video once a month. Also blogging, Tweeting and posting images. Site aggregates and features content.
Awesome ideas, great exposure — just sort of hard to tell if they resulted in sales. Monty himself is a big-ideas guy (he described himself as "Strategist, evangelist and advisor within the the entire organization. My job, ultimately, is akin to a conductor of an orchestra" so you know he'll be taking some credit!) but statements like "Ford's social media strategy is to humanize the company by connecting consumers with the people of Ford, and to make it easier for consumers to connect with each other, providing value in the process" are only meaningful insofar as they produce results.
(Ditto for "Social media is the cocaine of the communications industry" — maybe not the best analogy if you want to prove that you're not just getting really really really PUMPED about something that will just leave you with a bloody nose and a comedown.)
It would be glib to say that an uptick in positive social media interaction was responsible for Ford's impressive profits — it's a huge company with all sorts of factors at play (lower material costs, laying off auto workers, concessions from the ones left, good results from the Ford Credit Company; and on the minus side, Ford is far from out of the woods, given its heavy debt load, UAW challenges, and that fact that "solidly profitable in 2011" is not "solidly profitable now"). Those are all factors that have been mentioned in this morning's flood of stories about Ford — unlike marketing or social media.
But — in a world where car marketing is such a staple and I, a non-driver, can easily make a "Have You Driven A Ford Lately?" reference (not to mention sing it!) and with millions poured into car marketing annually, it seems equally glib to not consider the impact of digital and social media marketing. And you can Twitter that.
Ford posts $997M 3Q profit, beats expectations [Detroit Free Press]
Ford Swings To 3Q Profit, Boost 2011 Guidance [WSJ]
Ford Posts an Unexpected Profit of $997 Million [NYT]

Related:
Ford Spending 25% of Marketing on Digital and Social Media [BusinessWeek]
ALLURE OF SOCIAL MEDIA HELPS FORD REACH NEW CUSTOMERS [Ford]
Social Media at a Fortune 10 Company: Ford's Scott Monty [TopRank]
Scott Monty – The Twitter 20 Twinterview about Social Media at Ford [Convince & Convert]
Scott Monty: Ford Social Media "Expert" A Bit Of A Twit [Jalopnik]
Also Related:
"Ford's social media marketing and product quality have me re-thinking the brand" [Twitter]
…..but did he BUY A CAR? That is the question.
Update: Monty points out that the @Ford account diligently tweeted the Q3 results bright and early. He also directed me to TwitterCounter to look at the @Ford stats (here) but I didn't trust the start date for the account as it got mine wrong when I plugged it in. I checked MyFirstTweet.com and found that the original @Ford was started in Feb. 2007 by some dude; Monty confirmed to me via Twitter Direct Message that he and Ford had "worked with Twitter to transition" that account; according to Jalopnik EIC Ray Wert's Tumblr, that was about 6 months ago.
Have a tip we should know? tips@mediaite.com