TMZ Interviewer Blasts Kanye West: 'An Under-Medicated, Mentally Unstable Megalomaniac'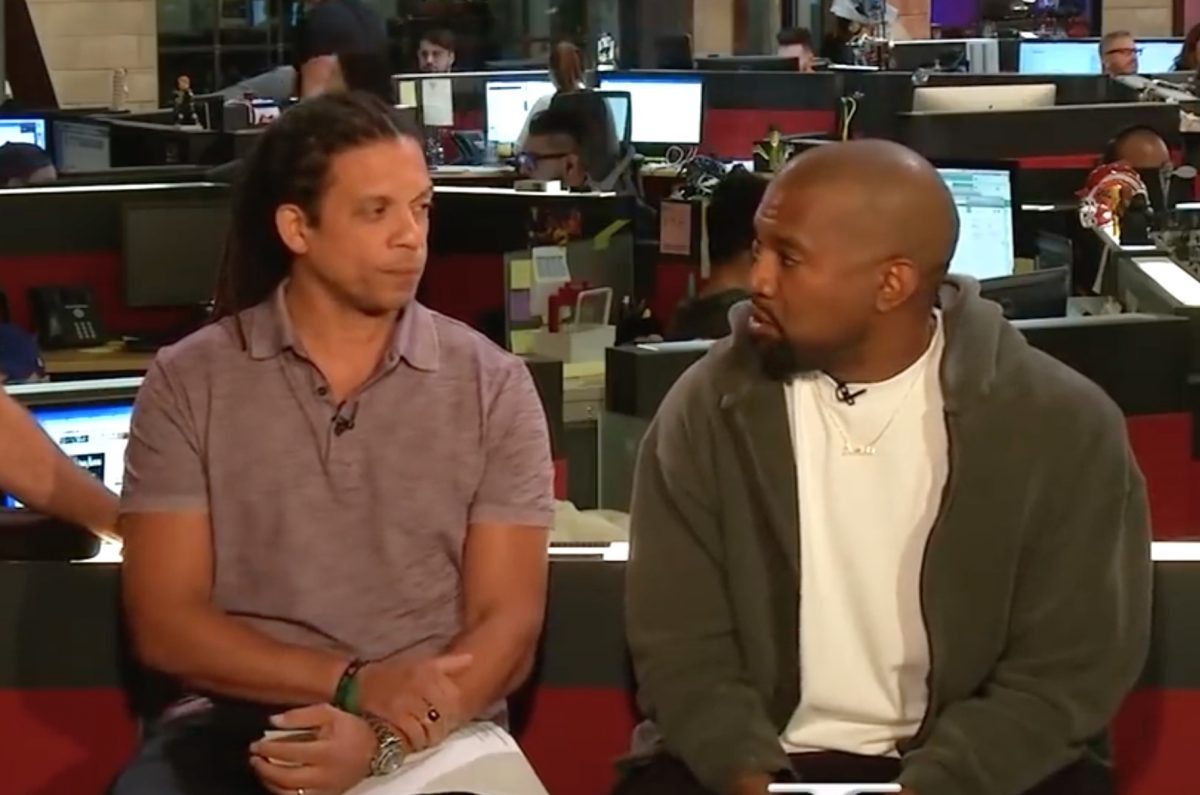 TMZ executive producer Charles Latibeaudiere is tearing Kanye West apart on Twitter following his controversial remarks with the outlet yesterday.
Yeezy spoke of slavery being a "choice" on Tuesday while he talked to Latibeaudiere and Harvey Levin about his support for President Trump. Latibeaudiere let West do most of the talking during their TMZ Live chat, though the rapper was confronted by staffer Van Lathan in the newsroom later on.
Today, Latibeaudiere took to Twitter to slam West and explain why he didn't say anything about his comments yesterday. He also gave a shoutout to Lathan for calling out West.
Ever sit so close to an under-medicated, mentally unstable megalomaniac (IMO) that you could smell his breath with every word he spoke… while trying to keep him focused enough to sit for an hour of television?
Everyone who said, "Yes," knows what my day was like yesterday.

— CharlesLatibeaudiere (@charleslat) May 2, 2018
If you said, "No," thanks for sharing your opinions, anyway. Since so many of you asked… Yes, I was pissed about a lot of Kanye's comments… especially the shit about slavery being a choice!

— CharlesLatibeaudiere (@charleslat) May 2, 2018
You don't have to be Malcolm X to realize, at that point, you're NOT dealing with someone in his right mind.
Now, here's why I restrained myself. The way I learned to interview someone is to let them speak. Don't talk over them and get in the way of letting them reveal themselves

— CharlesLatibeaudiere (@charleslat) May 2, 2018
That's what I tried to do. Of course I wanted to immediately fire back by asking if he was losing it … or remind him about the pain OUR people endured in slavery!!
And yes, I would have gone back to it, and challenged him once his rant abated.

— CharlesLatibeaudiere (@charleslat) May 2, 2018
However, that wasn't necessary…thanks to my man, @VanLathan who brilliantly and eloquently spoke for the majority of us.
So, yes, I have personal regrets about the way it all played out… but life goes on.

— CharlesLatibeaudiere (@charleslat) May 2, 2018
You may now resume picking me apart ("house nigga" is a favorite)… cause as we all know trolling makes the Internet go 'round! Oh, and … Thanks for watching #TMZLive

— CharlesLatibeaudiere (@charleslat) May 2, 2018
[Image via screengrab]
— —
>> Follow Ken Meyer (@KenMeyer91) on Twitter
Have a tip we should know? tips@mediaite.com