18 House Republicans Nominate President Donald Trump For 2019 Nobel Peace Prize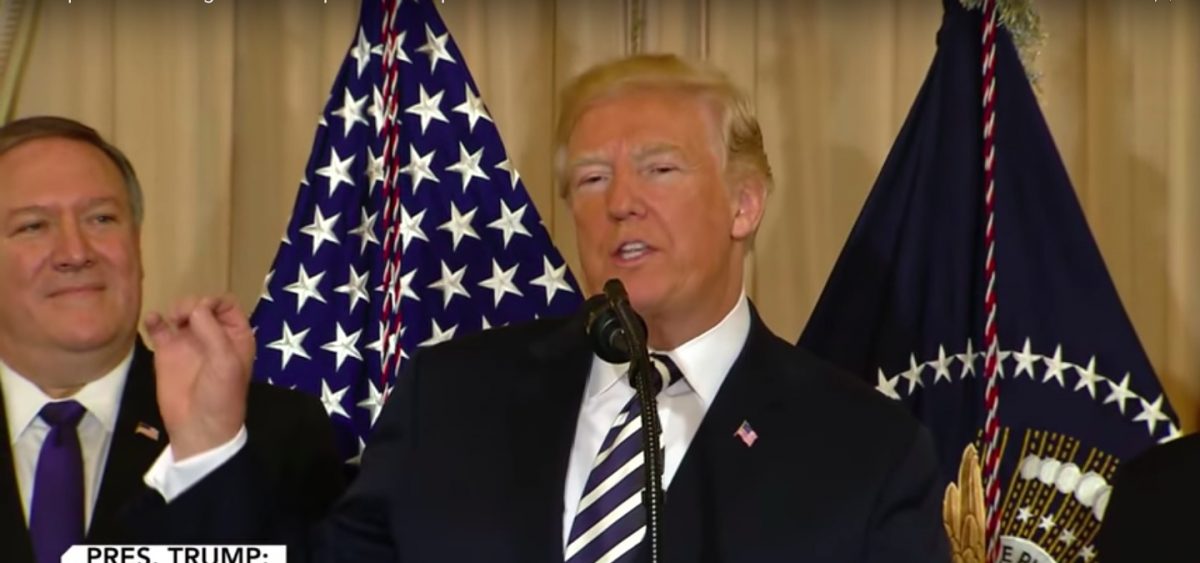 The day is May 2, 2018. Kanye West is one of the leading voices of Republican discourse. Colonel Sanders just resigned as one of the president's top lawyers. And Donald Trump has been nominated by members of Congress for the Nobel Peace Prize.
Let's all just hope that highly advanced extraterrestrials from a far off galaxy haven't chosen this day to invade our planet, because we will not have a lot to show for ourselves.
Rep. Luke Messer (R-IN) tweeted out that he and 17 of his House colleagues wrote a letter to Oslo recommending Trump for the Nobel Peace Prize. The letter contends that Trump ought to receive the prize for "his work to end to [sic] the Korean War, denuclearize the Korean peninsula, and bring peace to the region."
Today, 17 of my House colleagues joined me in nominating @realDonaldTrump for the 2019 Nobel Peace Prize. pic.twitter.com/TJpJKW9JGH

— Rep. Luke Messer (@RepLukeMesser) May 2, 2018
"President Moon Jae-in of South Korea has consistently praised the Administration's work and recently said, 'President Trump should win the Nobel Prize," the letter reads. (AFP translated Moon's remarks differently, saying that he said "President Trump can take the Nobel prize. All we need to take is peace.") "We can think of no one more deserving of the Committee's recognition in 2019 than President Trump for his tireless work to bring peace to our world."
Who are the kinds of people who couldn't think of anyone on God's green Earth who's brought more peace to mankind than Donald Trump? Well, co-signers of the letter include Rep. Matt Gaetz (R-FL), who was flipped off by a little girl just yesterday; Rep. Mark Meadows (R-NC), who is in the process of drafting articles of impeachment against Deputy Attorney General Rod Rosenstein; and Rep. Steve King (R-IA), who thinks it's a good idea to attack young activists for their heritage.
(There may have been a 19th supporter of the nomination – a one John Barron – who made a personal phone call to the Nobel Committee recommending Trump for the prize.)
[image via screengrab]
Have a tip we should know? tips@mediaite.com