Tom Brady's Wife Caught Cursing, Blaming Patriots Receivers For Super Bowl Loss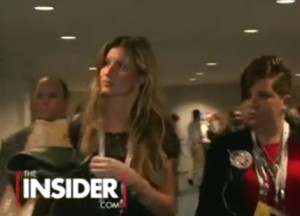 It's the day after Super Bowl Sunday, so the media is busy wringing every last drop of hype out of its annual High Holy Day, dissecting ads, gasping at MIA's middle finger and Madonna's near-faceplant, and this: Gisele Bundchen, wife of losing Patriots QB Tom Brady, was caught on tape saying, through a barrage of Giants fans' heckling, that "My husband cannot f**king throw the ball and catch the ball at the same time!"
(There was also a game; the Giants won.)
The exchange is all over cable news today, with much of the focus on Bundchen's use of profanity and apparent blaming of her husband's receiving corps, as well as her pleas, last week, for people to pray for Brady. In both cases, Bundchen's remarks, for what it's worth, don't appear to have been intended for public consumption. The prayer request was made via email to friends, and she didn't seem to be aware there was a camera on her last night.
Giants fans were heckling Bundchen about Brady's loss, and she turned to a companion and said, "You [have] to catch the ball when you're supposed to catch the ball…My husband cannot f**king throw the ball and catch the ball at the same time. I can't believe they dropped the ball so many times."
Those comments might make things a little awkward at the next team barbecue, but as a Jets fan, I was more disturbed at the behavior of those Giants supporters. Heckling a player's wife is not cool, and they were shouting "Eli owns your husband!"
That's a weird thing to say to someone's wife, as if Eli Manning had won the right of primae noctis, and can now, at will, replace Bundchen in their marital bed.
Still, Jets and Giants fans alike will tell you that Bundchen ought to be grateful she wasn't facing our Tri-State neighbors, the Philadelphia Eagles. To their fans, it's not heckling unless secretions are involved.
Here's the video, from The Insider.com:
Have a tip we should know? tips@mediaite.com