Tony Blair: Hussein Had to Go, but I Regret the WMD Intelligence Mistakes of Iraq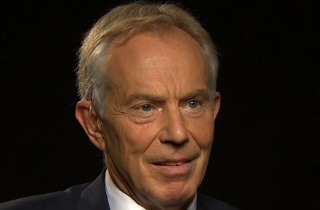 During an interview on CNN with Fareed Zakaria, Former Prime Minister Tony Blair was asked to look back on what he thought about leading Britain to join America in the 2003 campaign against Iraq.
The Blair interview was part of a lengthy special hosted by Zakaria called Long Road to Hell: America in Iraq, airing on CNN Monday night at 9 pm EST.
Blair said in the interview that while he did not regret helping to bring down Saddam Hussein, he was apologetic about how the effort was launched on the mistaken assumption that the regime possessed weapons of mass destruction.
"Even though he used chemical weapons extensively," Blair explained, "the program that we thought it was did not exist, so I can apologize for that. I also apologise for some of the mistakes in planning and, certainly, our mistake in our understanding of what would happen once you removed the regime."
Blair's long-term decision contributed to the unpopularity he saw in the U.K., for he faced the same questions George W. Bush saw for destabilizing the Middle East, while only achieving uncertain gains for the War on Terror.
Even so, Blair impressed that "I find it hard to apologize for removing Saddam. I think, even from today in 2015, it is better that he's not there than that he is there."
Blair also acknowledged that there were "elements of truth" in the argument that the chaos caused by the war effort might have contributed to the rise of ISIS. "You can't say those of us who removed Saddam in 2003 bear no responsibility for the situation in 2015," Blair said. He also stated that ISIS originated in Syria, rather than Iraq, and that the totality of Western impact on the region has yet to be fully determined.
Zakaria also spoke to others who played significant roles in the Iraq War, including Paul Bremer, the former presidential envoy to Iraq, and General David Petraeus.
You can watch the interview in the video above, via CNN.
[image via screengrab]
Have a tip we should know? tips@mediaite.com