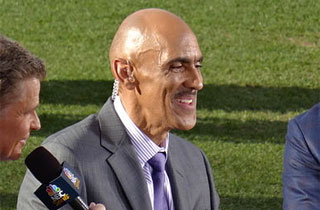 In a statement published on ProFootballTalk, former Indianapolis Colts coach Tony Dungy said he's rather sorry the world misinterpreted comments he made about gay NFL player Michael Sam being a "distraction" to any pro team he'd play on.
"I was quite surprised to read excerpts from an interview I gave several weeks ago related to this year's NFL Draft, and I feel compelled to clarify those remarks," he began.
Dungy stood by his remarks that he wouldn't have drafted Sam, because he "felt drafting him would bring much distraction to the team," he wrote. "I was not asked whether or not Michael Sam deserves an opportunity to play in the NFL. He absolutely does. I was not asked whether his sexual orientation should play a part in the evaluation process. It should not."
He goes onto explain why pro-sports gayness is distracting — it's because it'll be all that the media talks about:
What I was asked about was my philosophy of drafting, a philosophy that was developed over the years, which was to minimize distractions for my teams.

I do not believe Michael's sexual orientation will be a distraction to his teammates or his organization.

I do, however, believe that the media attention that comes with it will be a distraction. Unfortunately we are all seeing this play out now, and I feel badly that my remarks played a role in the distraction.

I wish Michael Sam nothing but the best in his quest to become a star in the NFL and I am confident he will get the opportunity to show what he can do on the field.

My sincere hope is that we will be able to focus on his play and not on his sexual orientation.
[h/t Deadspin]
[Image via Jeffrey Beall/Wikimedia]
—
>> Follow Tina Nguyen (@Tina_Nguyen) on Twitter
Have a tip we should know? tips@mediaite.com