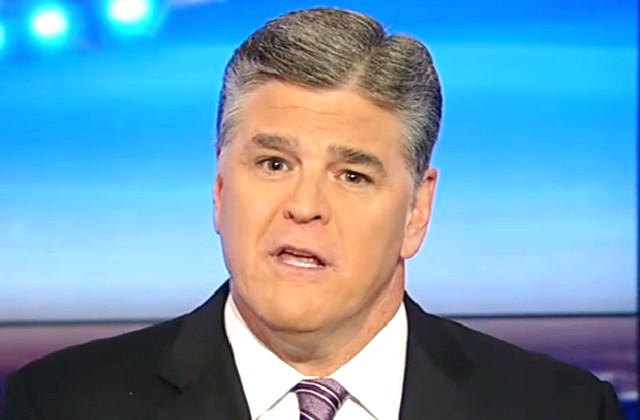 New York Times Magazine published an extensive profile on Sean Hannity Tuesday, and it offers some unusually thorough insight into the man behind Fox News' leading primetime firebrand (and inevitably drawing criticism for providing too soft of coverage.)
The profile explores Hannity's relationship with President Trump, the daily process of crafting his TV and radio programs, and the level of influence he has with the current dynamic of Fox News. It also delves into Hannity's personal life and the nuanced arc he took to reach his current status a major political commentator.
Left-leaning readers might find the profile somewhat surprising since there are bound to be some people who read the NY Times who only see the Fox News host only as a one-dimensional and ultra-partisan blowhard who defends President Trump under any condition. Certainly, there's no love lost in that department when Hannity frequently blasts the "disgustingly biased, ideological and corrupt" mainstream media while saying that critics willfully misunderstand him.
Even so, without further ado, here are five of the most illuminating details people should bear in mind when thinking about the figure that is Sean Hannity:
1. Childhood
Hannity's upbringing offers plenty of indicators for how he arrived at the political beliefs and style of punditry he would embrace later in life. He described a household with two strict disciplinarian parents, his old job as a paperboy, and a boyhood disinterest in academics:
Hannity was born in 1961, the youngest of four siblings and the only boy. His parents, Hugh and Lillian, were first-generation Irish-Americans, and grew up in the Bedford-Stuyvesant neighborhood of Brooklyn and the Bronx, respectively. When Hugh returned from fighting in the Pacific in World War II, he and Lillian sank all their savings into a modest home in Franklin Square, then a redoubt of socially conservative Irish, Italian and Jewish working-class families.

Both Hugh and Lillian worked throughout Sean's childhood, Hugh as a family-court officer in the city and Lillian as a stenographer and a corrections officer at a county jail. In the evenings, there was a fug of Pall Mall smoke in the air and, occasionally, his mother's pistol sitting on the kitchen table. Hugh allowed Sean to take his first shooting lesson at 11, inspiring his love of guns; today, Hannity has a concealed-carry permit for his .40 Glock.
2. Love of Radio
Hannity said his family wasn't particularly involved in politics, though he grew up listening to various radio hosts who would become the precursors to modern conservative talk radio. As Hannity got involved with radio, later on, he began to develop a style where he would engage participants with sharp and contentious dialogue on various topics.
In Hannity's youth, "it was never, 'Turn off the television!' " he recalls. "It was: 'Turn that blankety-blank radio off now! Turn it off!' And I'd say, 'Fine,' and then my parents would leave, and I'd put it back on."

In 1989, now living in Santa Barbara, Calif., Hannity began calling in to the local talk station, KTMS, to argue the merits of the Reaganite worldview he'd absorbed from Grant and others. That fall, he applied for an unpaid position at KCSB, the radio station of the University of California, Santa Barbara. As a host, Hannity was quick to test boundaries, to jab at what he regarded as the liberal pieties of the student body.
3. Memory Lane
In the profile, Hannity was described as a "champion of insurrection" who frequently gives the Republican base leeway to challenge the status quo under previous administrations. Hannity took interviewer Matthew Shaer to his old house at one point, which led to a moment which showed the level of connection he has with his audience.
We drew to a halt in front of Hannity's childhood home, on Oaks Drive. It had been 35 years since he was last inside. "I'll knock if you will," he said.

The current owner, Barbara Jenik, opened the door, an aggrieved Chihuahua vised into her armpit. "Sean Hannity?" she yelped, squinting into the sun. "I listen to your radio show all the time!" She led us around the side of the house, where decades ago Hannity carved his name into the brick facade. The letters, scrawled in a child's hand, were still visible. Hannity shook his head disbelievingly. "Do you want to come in?" Jenik asked.

In the kitchen, Jenik's teenage daughter was reading the newspaper. Hannity looked toward the den. "My parents' room was here, and my room was in the back," Hannity said. "That's where I'd listen to the radio. That was my obsession."
4. How the Show Comes Together
The profile delivered some enlightening tidbits about the production differences for Hannity's radio and TV programs. The Fox host went into detail about how he adjusts his style to suit different mediums, though neither limits his ability to advocate for the right or demonstrate the most objectionable, controversial aspects of the left.
In his morning call with his senior executive producer at Fox, Porter Berry, and his executive producer, Tiffany Fazio, he suggested a rewrite of the opening monologue, a six-to-seven-minute riff that he sees as the most important part of the show. On Twitter, he told the producers, he'd noticed many liberals calling for increased gun control. He wanted to center his monologue on a theme he frequently returns to on Fox and on his syndicated daily radio show, which reaches approximately 13.5 million Americans: Why was it that liberals always used tragedies to further their own political ends? To make the segment really hum, he would need material to react to — Hannity's most effective segments are oppositional — and Berry and Fazio agreed to start digging.

Hannity later told me he had, over time, developed separate approaches for his radio and television shows. "My thoughts are the same: I'm mad," he said. "But with television, I've got the images to help me out. With radio, it's on me to paint the picture."
5. Defending Roger Ailes
When Roger Ailes faced the sexual harassment scandals which led to his downfall, Hannity was one of the most prominent defenders of his former network chief. The profile describes this as a sense of loyalty on Hannity's part, along with skepticism of his old boss' accusers.
When Colmes left "Hannity & Colmes" in 2009, the program was rebranded as just "Hannity," and dressed up in American-flag-inspired graphics. Hannity credits Ailes for sticking with him long enough to see him prosper on television. The Fox C.E.O., Hannity told me, "was a father figure," and in 2016, Hannity vociferously defended his boss in the face of sexual-harassment allegations. (With Hannity, as with Trump, loyalty is paramount, and although he and the former Fox News host Bill O'Reilly have not always gotten along, "Hannity" was O'Reilly's first stop at the network after being fired from Fox this year in response to allegations of sexual harassment.)

"Sean definitely led the 'Come on, guys, we can't let our boss go down' group," Geraldo Rivera told me. "But Sean is also the one who ultimately said to me, 'From what I've seen and heard, some of the allegations are true.' " Hannity told me of Ailes: "You know, sometimes people are complicated in life, sometimes it's not black and white. Some of the most brilliant people I have met in my life — something I don't have to worry about; I consider myself pretty average — the most brilliant people, often their blessing can be their curse. Do I believe everything that was said? No. Do I think maybe some of it is true? Maybe." He added, "But if you assume for a second some of it was true, that's a side of him I never knew, never saw."
Of course, in terms of news items, there are plenty of insightful moments to choose from. One might consider the part where Hannity criticizes his old colleague, Megyn Kelly, for the questions she asked Trump during the first GOP debate of the 2016 election.
Another such moment can be found in the moment where Hannity reassesses his previous statements about how he is not a journalist. Today, Hannity describes himself as an "advocacy journalist, or an opinion journalist" who wants to "give my audiences the best shows possible."
All told, readers of this NY Times Magazine profile will likely come away seeing Sean Hannity with a different – and more informed – set of eyes than they had before. And regardless of where one might find themselves on the political spectrum, that cannot be a bad thing.
Ed. note – the headline has changed since publishing to better reflect the intentions of the writer.
[Image via screengrab]
— —
>> Follow Ken Meyer (@KenMeyer91) on Twitter
Have a tip we should know? tips@mediaite.com