Tough Crowd: Even Stormfront Hates Woman Who Posted Video Of Racist Dunkin Donuts Rant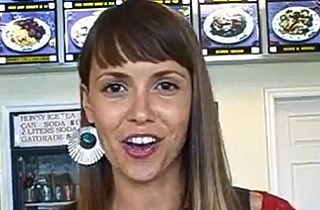 Taylor Chapman, the 27 year-old Florida PR professional who posted an unhinged rant, in which she refers to a Dunkin Donuts employee as a "complete c*nt-sand-nigging whore," is really not feeling the love. While her self-inflicted antics have predictably made her an object of revulsion to most people, you would think that the racist denizens of leading White Power forum Stormfront would show her some love. As it turns out, though, even those guys were turned off by Chapman, even before they somehow concluded that she is Jewish.
In case you missed it, Chapman returned to her favorite Dunkin Donuts, armed with a camera phone and a whole mess of cusswords, to demand the free order she felt she was owed due to an unreceived receipt. She then posted the rant, in which she refers to an employee as a "complete c*nt-sand-nigging whore," to Youtube, where it has gone viral. In the course of the 8-minute video, she completely weirded out another customer, threatened to nuke the shop "from Mars," and confronted the clerk from the night before, and called her a "sand-n*gger" to her face. She also prophetically told the cashier that "There are no take-backs in life."
They say there is just no pleasing some people, and the denizens of Stormfront are no exception. Despite her efforts, Chapman drew a principled rebuke from Stormfront member "putnamvt":
As someone said on another site, she was acting out like Sandra Bernhard on crack. Just my opinion.

And about 'getting a million hits' – what about the other White customers she drags into her performance, wagging her camphone around = invasion of their privacy. The woman's nuts.
Stormfront's "Chukman" was primarily concerned with healthier eating, and obsessively clocking the time since his last visit to a doughnut shop:
Who cares – I haven't been in a Donut Shop in over 7 months and was only dragged into one by another person.

All the donuts at those places are now microwaved / defrosted (no longer fresh) and I can think a better use for my money than overpriced (cheap quality) coffee and microwaved (unhealthy) donuts.
That's a little quirky, but several comments in, these people almost seem normal. Then, Stormfront member DeniseBarber goes there:
That's a Jew. That's not a White woman. That's a Jew. FL. Chapman. Raving about callng a lawyer over a coolata.

Jew.
What must it be like to make thousands of these minute, brain-dead calculations every time you meet someone? Not that it matters, but Chapman does say, quite clearly, that she's from "Indiana and Kentucky," not Florida.
Denise's observation reminds "Chukman" that he's on a racist website, so he offers his own scientific analysis of Chapman, with some misogyny thrown in:
There's a clip of her and she looks like a typical Anglo-American in appearance, albeit American society is heavily Jewified. .

Wouldn't be the first time a junior executive thinks they are above everyone. . especially a female executive (who likely only got their job in the first place for being 'eyecandy'. I swear every office these days, the senior management all promote the young women into middle management roles ahead of more competent men).
The video that Taylor Chapman unwisely posted to Youtube was obviously not her finest hour, but hopefully these fine Stormfronters have demonstrated that there are still many worse people in the world, people that she shouldn't want to have anything in common with. As Slate's David Haglund points out, maybe next time Taylor should heed the words of the late, legendary comic Mitch Hedberg:
Have a tip we should know? tips@mediaite.com