Trump Adviser Admits He Has No Idea What Happened to That Veteran's Rally Charity Money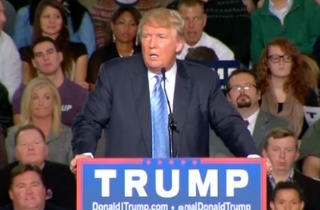 Remember when Donald Trump snubbed Fox's presidential debate to hold a fundraising rally for veterans back in January? Well, it seems there's a great deal of that money that has yet to be distributed. What's more, his staff seems unconcerned about why it hasn't been given out.
Trump claimed after the rally that his website drew in a total of $6 million for wounded warriors, but The Daily Beast caught up with his veteran's issues chairman and asked about why charities haven't exactly lined up to publicly acknowledge that they received any of it.
"I could ask, but it's not high on my priority list," said New Hampshire state representative Al Baldasaro. Baldasaro also serves as Trump's point person for veteran's affairs.  "I don't track that. I'm not concerned about it, because I know [Trump is] an honorable, honest guy… you guys just want to say, 'gotcha.'"
While Baldasaro has given checks to at least two local veterans across his state, various media outlets have attempted to track others down with limited success. CNN reported in March that Trump spokeswoman Hope Hicks gave a statement saying that half of the money went to 27 veterans groups, but she did not provide specifics beyond promising that more donations would follow.
The Trump campaign has declined to comment on the matter multiple times after Hicks' statement. In fact,  reports have emerged since then that question Trump's charitable actions in the past. Baldasaro said his veterans advocacy kept him too busy to inquire about the money, but that he may ask about it in the near future.
"I agree with you on looking into it. I just wish I had a little more time," Baldasaro said. "My veterans constituents have never asked us that question."
[Image via screengrab]
— —
>> Follow Ken Meyer (@KenMeyer91) on Twitter
Have a tip we should know? tips@mediaite.com