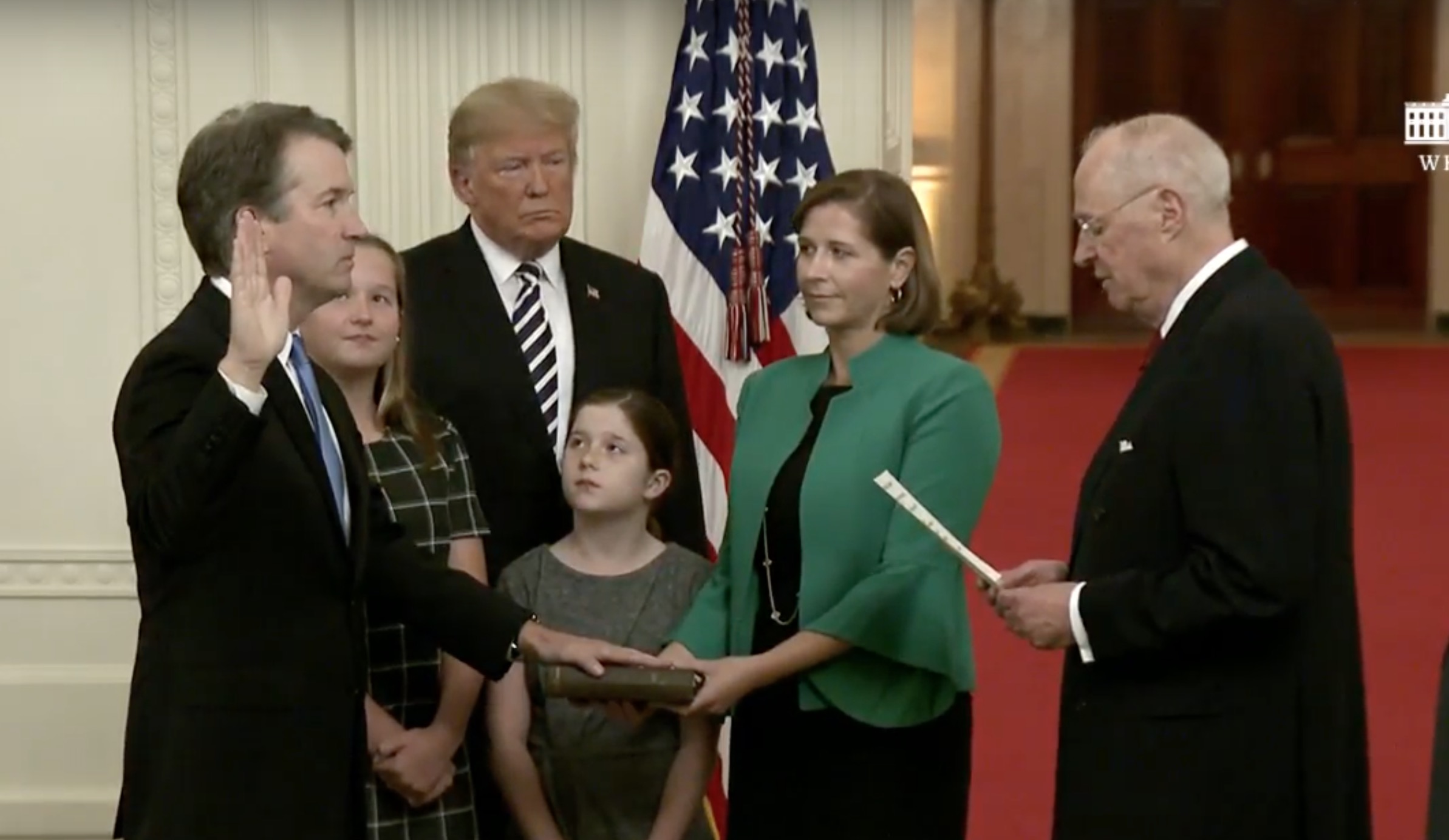 Twitter ignited Monday night in response to President Donald Trump's speech during Brett Kavanaugh's Supreme Court swearing-in ceremony.
Trump, near the outset of his remarks, apologized to Kavanaugh on behalf of the nation, lamenting that the Justice's family experienced "terrible pain and suffering" because his Supreme Court nomination was marked by weeks of bitter and bruising partisan fights. These political battles were largely based on sexual misconduct allegations against Kavanaugh, but tonight, Trump more or less pronounced the new justice innocent in the midst of his congratulations.
Since Kavanaugh's judicial ascension was such a flashpoint for the last few weeks, political junkies didn't hesitate to offer their first reactions online. You can see that Trump and Kavanaugh critics took notice of the ceremony — with many not approving of how things went.
At the White House swearing-in, Trump obscenely made the occasion a purely partisan one with his ludicrous claim that Justice Kavanaugh had been "proven innocent" and his misogynistic apology for the Senate's even having listened to Dr. Blasey Ford.

— Laurence Tribe (@tribelaw) October 8, 2018
Trump just said "On behalf of our nation, I want to apologize to Brett and the entire Kavanaugh family for the terrible pain and suffering you have been forced to endure." Well on behalf of humankind I want to apologize for Trump belittling a sexual assault victim ti get laughs

— (((DeanObeidallah))) (@DeanObeidallah) October 8, 2018
My official reaction to what's happening in the East Room right now…. pic.twitter.com/g0jAD5OZsW

— Jonathan Capehart (@CapehartJ) October 8, 2018
Trump's one redeeming quality is he doesn't know when to quit & takes victory laps so far that now Brett Kavanaugh will never be respected even inside the Supreme Court.

— Tom Arnold (@TomArnold) October 8, 2018
Trump supporters, on the other hand, were quite delighted:
#AmericaFirst – @realDonaldTrump: Kavanaugh is a man of decency, character, kindness, and courage. Now, from the bench of the nation's highest court, he will defend the eternal rights and freedoms of all Americans. #MAGA #TrumpTrain #Dobbs pic.twitter.com/a1qBEnr9FV

— Lou Dobbs (@LouDobbs) October 8, 2018
Here POTUS acknowledging Kavanaugh's wife and daughters. #SCOTUS #LifeTenure #JusticeKavanaugh ⁦@realDonaldTrump⁩ pic.twitter.com/xTzzwBpxMh

— Laura Ingraham (@IngrahamAngle) October 8, 2018
Kavanaugh should have ended with "AND YOU CAN KISS ROE GOODBYE!"

— Ann Coulter (@AnnCoulter) October 8, 2018
Life is so good: Brett Kavanaugh sworn in, Ginsburg sulks, liberal heads explode. pic.twitter.com/BD3K55BC9I

— James Woods (@RealJamesWoods) October 8, 2018
Thank you @realDonaldTrump for putting #BrettKavanuagh on the Supreme Court. History today was made!

— Ben Ferguson (@benfergusonshow) October 8, 2018
However, MSNBC host Chris Hayes especially drew attention tonight with his passionate reaction to the ceremony. Here's a sampler:
Holy crap.

— Chris Hayes (@chrislhayes) October 8, 2018
Apologizing "on behalf of the American people"

Then says he was "proven innocent" https://t.co/vsJYWATobA

— Chris Hayes (@chrislhayes) October 8, 2018
This is waay waay worse than I imagined and I thought it would be bad.

— Chris Hayes (@chrislhayes) October 8, 2018
I now realize this speech is happening to erase the memory of his Thursday performance so it's not the last thing in people's minds before he takes the seat on the court.

— Chris Hayes (@chrislhayes) October 8, 2018
Just crystallized for me how much this entire thing was a dry run for when Mueller submits his findings.

— Chris Hayes (@chrislhayes) October 8, 2018
[Image via screengrab]
— —
>> Follow Ken Meyer (@KenMeyer91) on Twitter
Have a tip we should know? [email protected]com