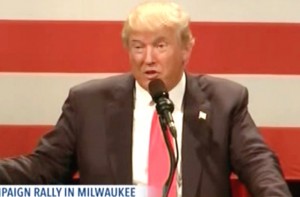 The Trump campaign told Senate Republicans facing tough re-elections back home that it would give them distance to avoid jeopardizing their campaigns in November, according to a CNN report.
CNN's Manu Raju writes:
Last week at an off-the-record lunch meeting in Washington, Trump adviser Paul Manafort told Senate Republican chiefs of staff that the Trump campaign wants to be helpful to GOP senators in tough races, according to three sources in the room. Manafort said if there are issues that put GOP senators in awkward positions, the Trump campaign would seek to avoid those touchy topics while campaigning in their states, attendees said.

And if Senate Republicans want to keep their distance from the campaign and avoid the candidate altogether, Manafort said, the campaign would not hold it against the vulnerable senators, the sources said.
There are 34 Senate seats in play this November, of which the Democrats currently control ten.
The New York Times reported earlier this month that Senate Republicans wary of Trump's unfavorables hurting their re-election chances were looking for tactful ways to avoid aligning themselves with him, without alienating the party's presumptive nominee:
Senator Kelly Ayotte of New Hampshire, who is in a tough re-election race, signaled that she would "support" Mr. Trump but not "endorse" him, as a spokeswoman put it, a rhetorical contortion that other Republicans repeated privately.

[…] Representative Tom Cole of Oklahoma, a veteran House member and Republican strategist, said he was counseling his colleagues in competitive races to be coldblooded about how they approach their nominee.

"Position yourself in the way you think is best for you," he said, allowing that "it is difficult" for some members.
Although with more recent polls showing Trump gaining ground nationally, some candidates are taking the opposite tack. "It's very possible that he will be helpful to me," Sen. Rob Portman (R-OH), who is facing re-election, told CNN.
Have a tip we should know? tips@mediaite.com