Trump Campaign Manager Accuses Media of Suppressing Proof of Cheering Muslims on 9/11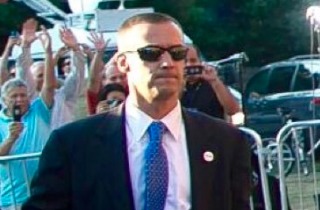 Because Donald Trump continues to go against established fact with his claim that thousands of Muslims in New Jersey celebrated on 9/11, his campaign manager accused the media today of putting on a conspiracy to hide the evidence proving him right.
Corey Lewandowski said on Breitbart News that even though no established footage or documentation of these crowds have ever been proven true, the Trump campaign has pointed to local media and intelligence reports that supposedly verify the Donald's claim. And then Lewandowski accused the media of denying and suppressing these materials and, by doing so, proving their bias against Trump.
"For the mainstream media to go out and say that this didn't happen is just factually inaccurate," Lewandowski said. "We know it happened."
While the media has established that Palestinian Muslims in the West Bank did celebrate the attacks, Chris Christie, the Washington Post (which Trump cited), and numerous other fact-checkers have not found any report to prove Trump factually correct on the scale he says in New Jersey. To this, Lewandowski concluded that "the media has their own agenda":
"They want to try and discredit as many people as possible so that they can have an establishment candidate come in and think that everything is going to be the same because they are all controlled by the special interests and they are all controlled by the media and that is what the American people are just so tired of."
You can listen in the segment above, via Right Wing Watch.
[h/t The Hill]
[image via Twitter]
Have a tip we should know? tips@mediaite.com