Trump Manager on Misleading Mexican Wall Footage: 'No Shit! That Was 1000% on Purpose'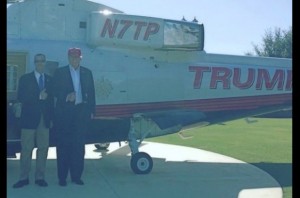 It would appear as if finally, the entire Trump campaign and staff have adopted the truly I-don't-give-a-f–k attitude of the man at the top.
In recent weeks, campaign spokesperson Katrina Pierson has made a series of extremely notable cable news appearances, each more laden with typical Trump-speak than the next. Pierson, who recently donned a bullet choker necklace very casually on CNN, retorted to criticism, "Maybe I'll wear a fetus next time." As for the proposed Muslim ban that her boss spouted off about last month, Pierson doubled-down, telling S.E. Cupp, "So what? They're Muslim!".
Now it would appear as if Pierson has company from those working for the real estate mogul's campaign who have basically become mini-Trump reincarnates themselves.
Campaign manager Corey Lewandowski has responded to claims that the recent Trump ad that touted what would appear to be Mexican illegal immigrants actually used footage from Morocco. In short? Lewandowski told NBC News, "No shit it's not the Mexican border."
Lewandowski emphatically continued, "But that's what our country is going to look like. This was 1,000 percent on purpose."
Politifact revealed on Monday that a key piece of footage from the new self-funded ad actually depicts thousands of Moroccans trying to enter the Spanish enclave of Melilla in 2014. Predictably, Politifact gave the video a "Pants on Fire" rating.
According to reports, Lewandowksi later emailed a statement to NBC News with a follow-up to his "No shit" outburst:
"The use of this footage was intentional and selected to demonstrate the severe impact of an open border and the very real threat American's face if we do not immediately build a wall and stop illegal immigration. The biased mainstream media doesn't understand, but Americans who want to protect their jobs and their families do."
[image via Twitter]
—
>> Follow J.D. Durkin on Twitter (@MediaiteJD)
This is an opinion piece. The views expressed in this article are those of just the author.