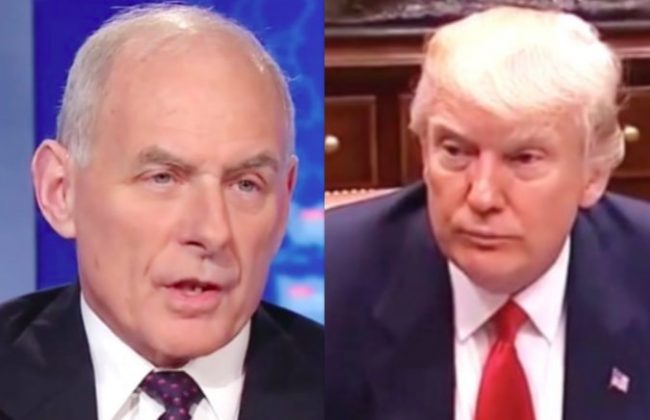 So the big news this morning appears to be that everyone in the White House is terrified of General John Kelly.
The stern Marine who dramatically replaced Reince Priebus as Chief of Staff was explicitly brought in to bring order to the warring factions in the west wing — and by all accounts, he is succeeding.
Kelly is such a towering figure that even Donald Trump is trying to step up his game. According to Axios' Jonathan Swan, "Even POTUS appears to be trying to impress his four-star handler, picking up his game by acting sharper in meetings and even rattling off stats."
If true, the nugget would be a remarkable revelation.
Trump is famously averse to the weeds of policy and is known to often eschew facts and figures in favor of more visual information displays. During his trip to the G7, leaders reportedly went out of their way to keep official statements short and to the point and to avoid rambling speeches which are typically par for the course.
Swan also reports that the change under Kelly has filtered down to lesser underlings as well, with certain "overt shenanigans" stopping overnight. Even first children power couple "Javanka" have been brought to heel — for now.
It's an auspicious start for Kelly.
The general, you will recall, made his presence known from Day 1 after engineering the ouster of Anthony Scaramucci as White House Communications Director. The Trump-friend was pushed aside after just 10 days on the job after a disastrous interview with the New Yorker.
[image via screengrab]
Have a tip we should know? tips@mediaite.com