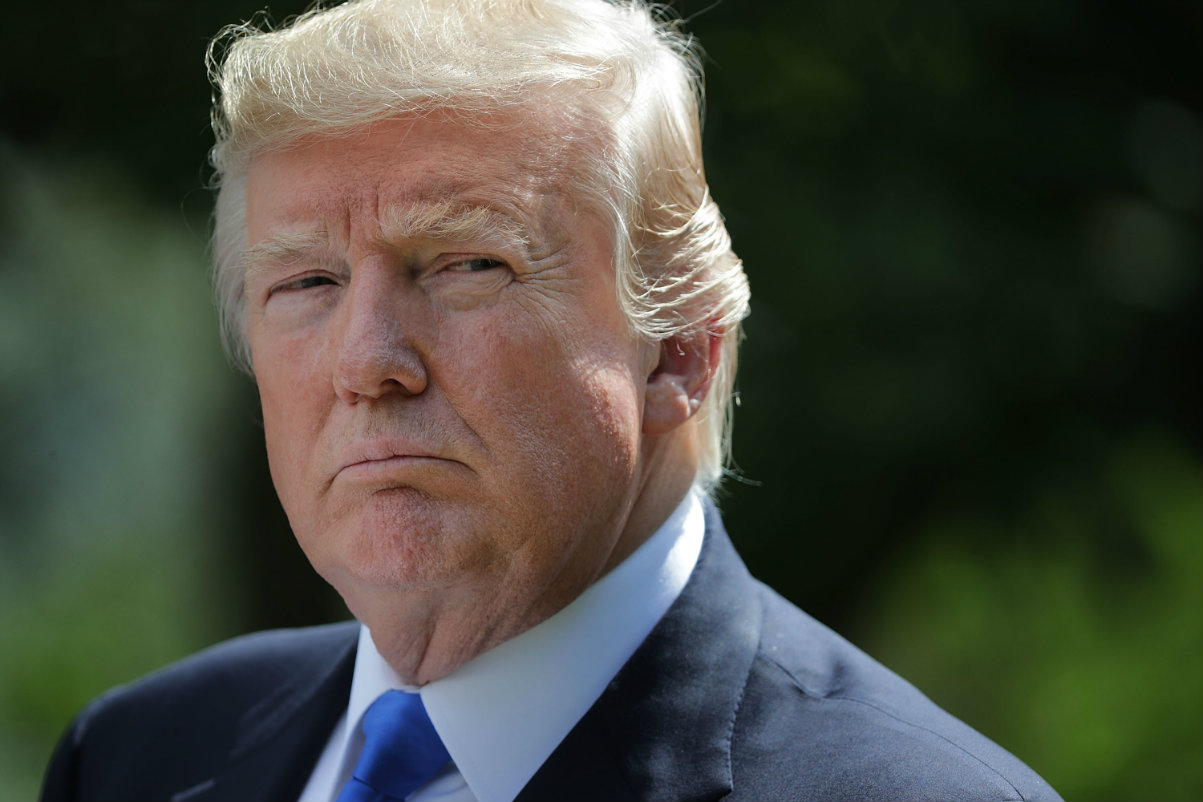 President Donald Trump has been on a Twitter spree this morning, focusing his ire on the Russia investigation — but also parroting Vladimir Putin's talking point that the Kremlin did not meddle in the 2016 election.
The president targeted FBI agent Peter Strzok, who sat for a 10 hour closed-door congressional hearing yesterday. Strzok has expressed clear disdain for Trump in his communications with his lover, Lisa Page, so he undoubtedly faced a lot of questions about the possibility that his bias tainted his work on the Hillary Clinton email investigation and the beginning of Robert Mueller's Russia probe.
Indications suggest Strzok argued that his political preferences did not corrupt the FBI, though he also refused to answer many of the questions he was asked. Naturally, this gave Trump a chance to start off his morning by doing what he loves most: calling the investigations into his campaign a rigged "witch hunt."
Lover FBI Agent Peter Strzok was given poor marks on yesterday's closed door testimony and, according to most reports, refused to answer many questions. There was no Collusion and the Witch Hunt, headed by 13 Angry Democrats and others who are totally conflicted, is Rigged!

— Donald J. Trump (@realDonaldTrump) June 28, 2018
Trump wasn't done there. He's trashing the FBI as a whole while more or less saying he believes Vladimir Putin over the US intelligence community. This comes as the White House lays out plans for Trump to hold a summit with the Russian leader in the near future.
Russia continues to say they had nothing to do with Meddling in our Election! Where is the DNC Server, and why didn't Shady James Comey and the now disgraced FBI agents take and closely examine it? Why isn't Hillary/Russia being looked at? So many questions, so much corruption!

— Donald J. Trump (@realDonaldTrump) June 28, 2018
Oh, and if you were wondering whether Trump is watching Fox & Friends again today:
Amy Kremer, Women for Trump, was so great on @foxandfriends. Brave and very smart, thank you Amy! @AmyKremer

— Donald J. Trump (@realDonaldTrump) June 28, 2018
Just watched @SharkGregNorman on @foxandfriends. Said "President is doing a great job. All over the world, people want to come back to the U.S." Thank you Greg, and you're looking and doing great!

— Donald J. Trump (@realDonaldTrump) June 28, 2018
UPDATE: He's still going.
Peter Strzok worked as the leader of the Rigged Witch Hunt for a long period of time – he got it started and was only fired because the gig was up. But remember, he took his orders from Comey and McCabe and they took their orders from you know who. Mueller/Comey best friends!

— Donald J. Trump (@realDonaldTrump) June 28, 2018
When is Bob Mueller going to list his Conflicts of Interest? Why has it taken so long? Will they be listed at the top of his $22,000,000 Report…And what about the 13 Angry Democrats, will they list their conflicts with Crooked H? How many people will be sent to jail and……

— Donald J. Trump (@realDonaldTrump) June 28, 2018
….persecuted on old and/or totally unrelated charges (there was no collusion and there was no obstruction of the no collusion)…And what is going on in the FBI & DOJ with Crooked Hillary, the DNC and all of the lies? A disgraceful situation!

— Donald J. Trump (@realDonaldTrump) June 28, 2018
[Image via Getty]
— —
>> Follow Ken Meyer (@KenMeyer91) on Twitter
Have a tip we should know? tips@mediaite.com