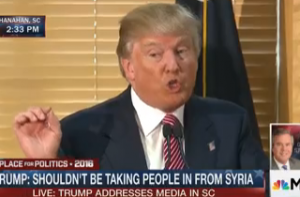 Today during an unexpected press conference, GOP presidential candidate Donald Trump took a moment to share his thoughts on infamous terrorists. Some of his assertions might have caught a few viewers off-guard.
His comments on Middle Eastern influencers came after a week of attacks on the Bush family and the Iraq War. After his comments alienated some supporters, Trump addressed the issue in-depth during his presser.
On al-Qaeda founder and Navy SEAL casualty Osama bin Laden:
If you take a look at the book The America We Deserve, written in the year 2000, I mentioned in that book — me, I wrote it — I mentioned in that book Osama bin Laden because I saw him a couple of times and I read about him and I said, "You know, he's a bad dude. We'd better do something about him."
On former Iraqi president and extreme Islam devotee Saddam Hussein:
You know, Saddam Hussein was a bad guy, but one thing about him: He killed terrorists. Now, Iraq is Harvard for terrorists. You wanna become a terrorist? Go to Iraq. Saddam Hussein understood and he killed terrorists. Bad guy, but if the President and other people — and, frankly Obama, who is no better because the way he got us out was a disaster. Look what's happened since then: a disaster. Shouldn't have been there, shouldn't have gotten out the way we got out — but, if the President went to the beach, we would have been better off, believe me.
He went on to insist that though he mishandled information on a possible terrorist attack, George W. Bush wasn't "responsible" for the attacks on the World Trade Center or the Iraq War. One of the best parts of the presser came then, when he shot down Jeb Bush's assertion that his brother "kept us safe after 9/11."
He has said relatively complimentary things about Hussein in the past, too, earning him quick reprimand from fellow GOP party members.
[image via screengrab]
For more from Lindsey, follow her on Twitter.
Have a tip we should know? tips@mediaite.com