Trump's Claim Mexico is Paying For the Wall Met With Mockery, Fact-Checks: 'This is Not How This Works'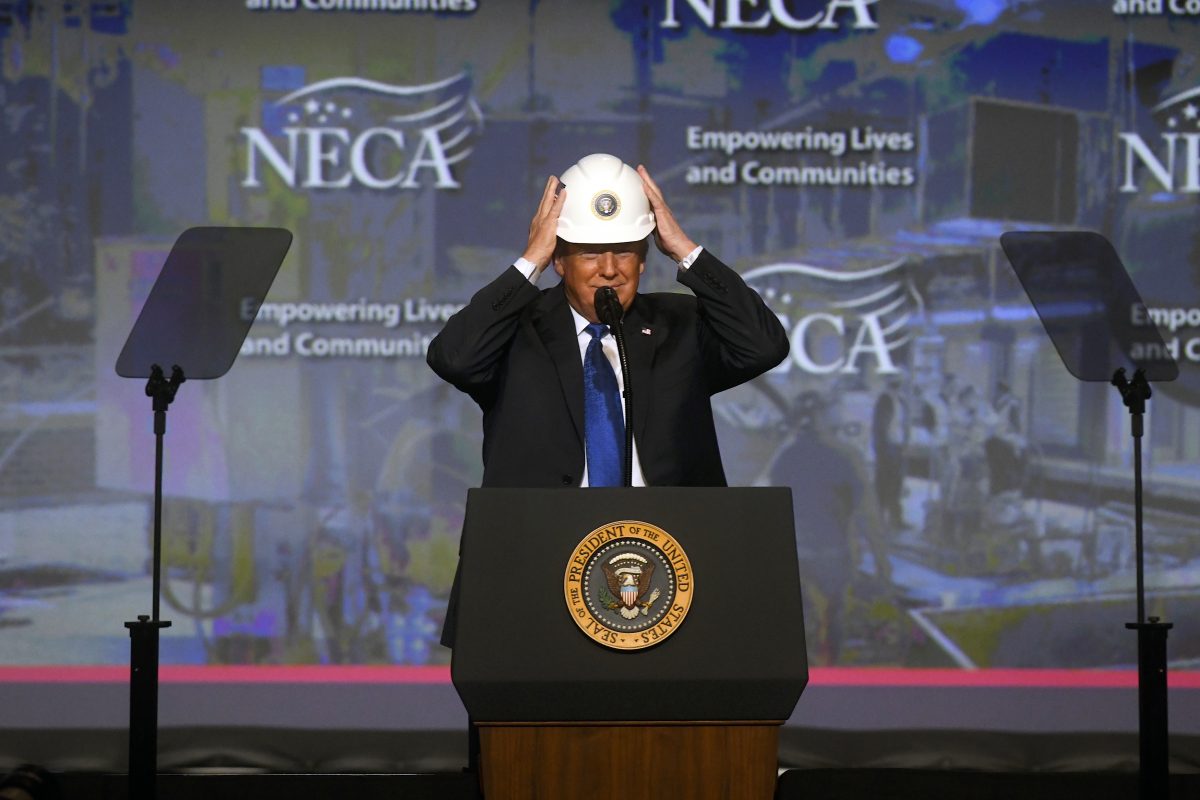 President Donald Trump claimed in a tweet Thursday morning that his long-promised wall on the southern border is being paid for by Mexico.
It was a frequent refrain on the campaign trail: "I will build a great great wall on our southern border and I'll have Mexico pay for that wall," Trump frequently bellowed.
The president boasted in his tweet that his new trade deal with Mexico and Canada, the USMCA, saves the U.S. so much money that through it, "MEXICO IS PAYING FOR THE WALL!"
I often stated, "One way or the other, Mexico is going to pay for the Wall." This has never changed. Our new deal with Mexico (and Canada), the USMCA, is so much better than the old, very costly & anti-USA NAFTA deal, that just by the money we save, MEXICO IS PAYING FOR THE WALL!

— Donald J. Trump (@realDonaldTrump) December 13, 2018
A few problems: Trump's wall is not currently being built, the USMCA trade deal is essentially NAFTA with a few tweaks. The idea that NAFTA with a fresh lick of paint is going to fund Trump's $25 billion border wall is… hard to believe.
Twitter took pains to point that out:
He is trying to find some rhetorical Rube Goldberg contraption to say that us paying for the wall is really Mexico paying. But I have talked to a dozen administration officials and Hill staffers — and nobody has a clue how this would work since he told this to Pelosi. https://t.co/O8QeEnCNa9

— Glenn Thrush (@GlennThrush) December 13, 2018
Ah yes, who can remember that catchy call and response from every Trump rally?

Trump: what are we going to do?
Crowd: build the wall!
Trump: Who's going to pay for it?
Crowd: we are, but the costs might be offset by unverifiable savings from mild tweaks to existing trade pacts https://t.co/uvWpTFYlKA

— Robert Maguire (@RobertMaguire_) December 13, 2018
Considering that USMCA is a relatively minor update of NAFTA, this spin makes absolutely no sense–> https://t.co/UX0CoKUnI9

— Glenn Kessler (@GlennKesslerWP) December 13, 2018
Do people actually buy this? https://t.co/fPPCke5D7p

— Scott Lincicome (@scottlincicome) December 13, 2018
This is amazing. Trump is claiming that Mexico is paying for a wall that literally does not exist. https://t.co/STan2j3bgM

— Brian Klaas (@brianklaas) December 13, 2018
The mental gymnastics you have to do in order to reconcile this with Trump's campaign promises are Olympics worthy. https://t.co/ThuqgQB3y2

— Josh Jordan (@NumbersMuncher) December 13, 2018
It's going to be hard to fit this on a check to a cement contractor. https://t.co/Qtar8WQjpR

— pourmecoffee (@pourmecoffee) December 13, 2018
Wharton just called. They would like that degree back. https://t.co/tkQFS23il6

— Karen Tumulty (@ktumulty) December 13, 2018
this truly is the grift that keeps on grifting https://t.co/c7aoBbq12e

— Matt YOUR PRODUCT/ISSUE HERE FOR $8.99/DAY Negrin (@MattNegrin) December 13, 2018
The wall is getting built, and Mexico is paying for it, and also, Democrats are denying me the money I need to build my wall.

Cool story bro https://t.co/sWw4z5OoRa

— Greg Sargent (@ThePlumLineGS) December 13, 2018
This is not how this works.
Fact check: Mexico is still not paying for the wall. https://t.co/lQasXAn1oK

— Jeremy Diamond (@JDiamond1) December 13, 2018
Interesting pretzel work here…. https://t.co/QWDdbXxurg

— Yashar Ali ? (@yashar) December 13, 2018
Bait and switch. If a shop-owner did this they'd throw him in jail.

— Jonathan Hoenig (@JonathanHoenig) December 13, 2018
Great so no need for Congress to found it with US tax dollars. Let us know when the wall is built with Mexican money.

— (((DeanObeidallah))) (@DeanObeidallah) December 13, 2018
[Photo by Mark Makela/Getty Images]
Have a tip we should know? tips@mediaite.com
Aidan McLaughlin - Editor in Chief