Trump's 'Off-the-Cuff' NBC Interview Reportedly Creates 'Dour' Mood in White House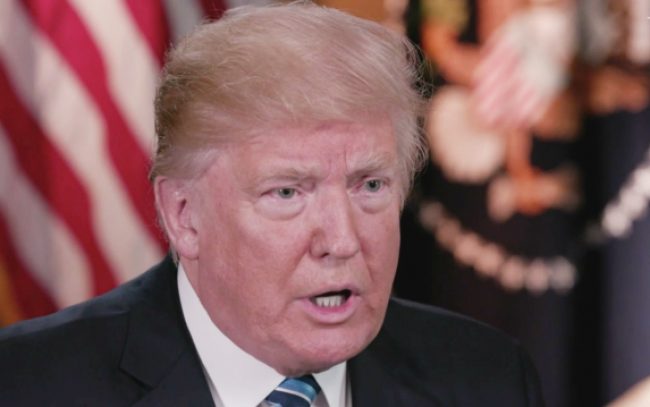 According to a report out tonight by Politico, President Donald Trump's interview with NBC News Lester Holt that aired this evening has resulted in a worsening climate in the White House as they attempt to work through a crisis in the aftermath of Trump's firing of FBI Director James Comey.
The president apparently went into the interview with the mindset that he needed to take charge following what he felt was "lousy media coverage" that was due largely to the failings of his aides, specifically those in the administration's press shop. Yet, he only caused more headaches for his staff by contradicting the previous claims made by his administration regarding Comey's firing.
Inside the White House, the mood was dour. Several White House officials said aides who didn't need to see the president stayed away from the Oval Office — and kept their doors closed. The president had little on his public schedule and spent several hours talking about the Comey situation, mostly fuming, and even re-tweeted criticism of Comey posted by his longtime nemesis Rosie O'Donnell in December.

Trump did the lengthy interview with Holt even though some on his staff believed it was a bad idea and gave his answers off-the-cuff. One person who spoke to him said he'd been "fixated" on his news coverage and believed his press team was failing him and that he needed "to take the situation into his own hands."
Before the interview, administration officials such as the vice-president, press secretary, White House counselor and deputy press secretary had maintained that the president fired Comey based on the recommendation of Deputy Attorney General Rod Rosenstein. Yet, he told Lester Holt that he had made up his mind beforehand and it didn't matter what was suggested by the Justice Department.
One White House source told Politico that there was "widespread recognition this was handled terribly but not a real sense that we can do much here." It was also noted that Sarah Huckabee Sanders was forced to change much of her planned responses right before today's press conference due to Trump's interview answers.
[image via screengrab]
—
Follow Justin Baragona on Twitter: @justinbaragona
Have a tip we should know? tips@mediaite.com