Trump's Personal Aide Fired From WH Over 'Security Issue,' Immediately Hired by Trump Campaign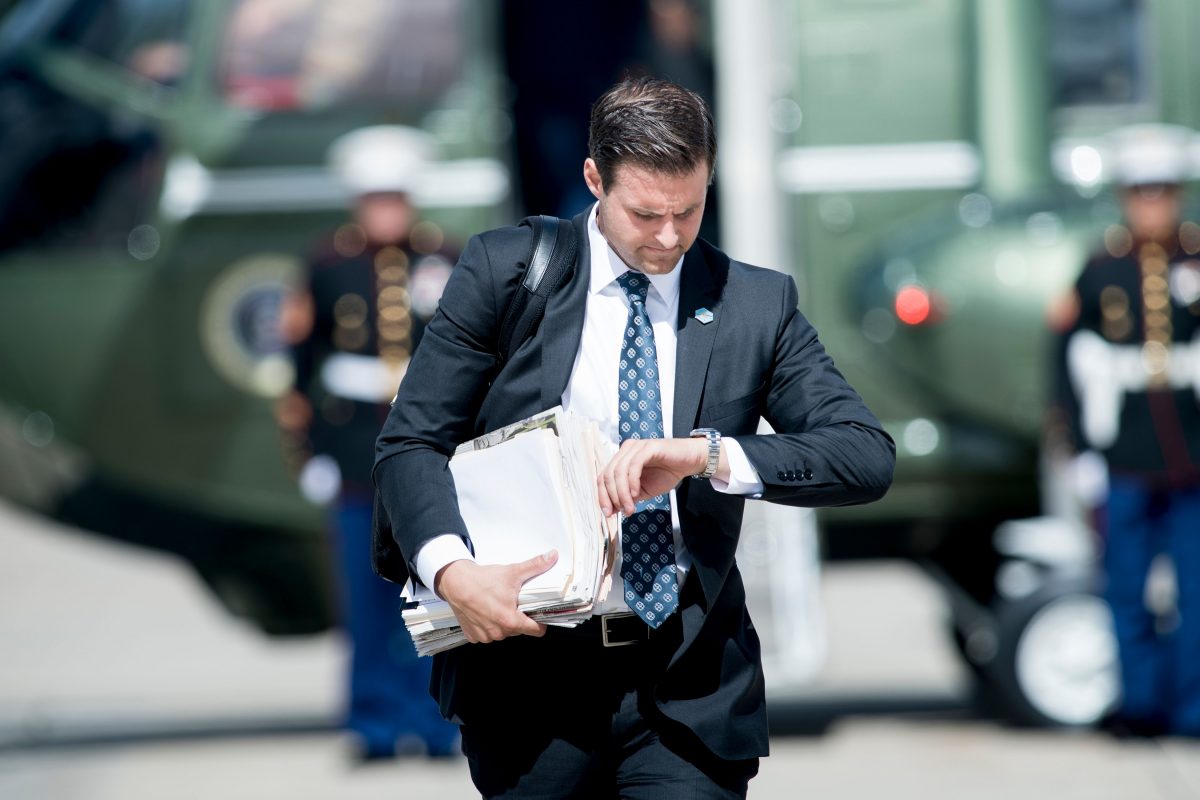 The chaos at the White House continues unabated.
On the day that it was announced that Secretary of State Rex Tillerson had been ousted by President Donald Trump, it was also reported that Trump's longtime personal aide John McEntee had been escorted from the White House after he was fired Monday over an "unspecified security issue."
According to the Wall Street Journal, the ouster of McEntee happened so quickly that someone had to go back into the White House and grab McEntee's jacket for him after he was removed from the grounds.
Despite McEntee's sudden termination from the White House that led to security physically escorting him off the premises, Trump's 2020 reelection campaign announced today that McEntee had been hired as a Senior Advisor for campaign operations. The campaign also brought on Katrina Pierson as a Senior Advisor. Pierson worked for the 2016 campaign as a spokesperson.
McEntee's termination apparently shocked the Trump family and inner circle:
Trump family loves Johnny McEntee.. became like family. This was sudden and shocking to inner circle. https://t.co/X1yLR08C2r

— Jonathan Swan (@jonathanvswan) March 13, 2018
McEntee was seen in the White House as part of the team of Trump loyalists who had been with Trump since the beginning. Others that were part of the group were now-former White House communications director Hope Hicks and social media director Dan Scavino.
Naturally, the White House press shop declined to specify the reason for McEntee's ouster, with Sarah Sanders hilariously telling the WSJ that they "don't comment on personnel issues."
I mean, this is just obviously false on its face:

White House press secretary Sarah Sanders declined to comment saying, "We don't comment on personnel issues."https://t.co/BAZnVJ7dYs

— Alex Burns (@alexburnsNYT) March 13, 2018
UPDATE 10:59 AM ET: And now it appears we know why McEntee was fired — he is under investigation by the Department of Homeland Security for financial crimes!
NEWS: Johnny McEntee was fired because he is currently under investigation by the Department of Homeland Security for serious financial crimes, a source familiar with his firing tells CNN.

This source says the charges are not Trump related.

— Kaitlan Collins (@kaitlancollins) March 13, 2018
[image via Getty Images]
—
Follow Justin Baragona on Twitter: @justinbaragona
Have a tip we should know? tips@mediaite.com