Trump's Real Estate Empire Was Built With Help Of Tax Breaks And Federal Funding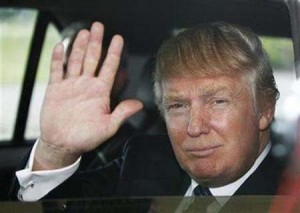 As Donald Trump again travels to New Hampshire and continues his flirtation with a run for President, a new report from the Los Angeles Times chronicles how "he built his empire in part through government largesse and connections." The article documents Trump's efforts throughout the country to continually fight for the lowest taxes possible and, according to a former auditor in New York City, to use "government's incompetence as a wedge to increase his private fortune."
Democratic Congressman Jerrold Nadler seems to be a persistent opponent of Trump's through the years, saying with certain projects Trump "sought to abuse the taxpayer and stretch the law . . . [when he wanted] a massive government subsidy. I said, 'Listen, Mr. Trump, if you think this is a good project, you spend the money.'" Trump's crusade to lower his own tax bills was fought outside of New York too, as Trump sparred with local officials in Florida, New Jersey and Nevada to try and retain as much of his company's earnings as possible.
Although Trump does not seem to shy away from such revelations, arguing, "when I work for myself, I try to make the maximum profit. If I run [for president] and if I win, I will no longer care about myself. I'll be doing the same kind of things for this country." If Trump does become a serious candidate, this is likely one of the first of many more articles to come that will focus on Trump's years of deal-making and potentially questionable business tactics, all of which Trump will have to be ready to defend.
Read the full article at the Los Angeles Times.
Have a tip we should know? tips@mediaite.com