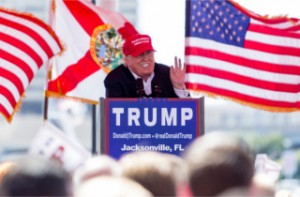 When Donald Trump decided to sit out the Jan. 28 GOP debate, he launched a simultaneous televised counter-event, which was nominally to raise money for veterans, and not at all to poach viewers from Fox. Despite The Donald's pure intentions, several veterans groups told him they didn't wish to be used as a pawn in his feud with the news network. And now they are learning the price you pay for refusing Trump's generosity.
As reported by The Daily Beast, Trump supporters have been relentlessly trolling and harassing veterans organizations who refused the mogul's largesse.
"We've gotten a flood of nasty attacks… many scary and threatening emails, [the] worst social media trolling I've ever seen," Paul Rieckhoff said. Rieckhoff is the founder and CEO of Iraq and Afghanistan Veterans of America (IAVA), an organization that provides returning soldiers with educational, legal, health, and financial support.
The Daily Beast's Tim Mak wrote:
[W]hen Rieckhoff said he didn't want his organization to be used as a political prop, and preemptively declined any proceeds from Trump's fundraiser, the businessman's fans directed wave after wave of viciousness against IAVA and its CEO on Twitter and Facebook.

Rieckhoff was called a "fucking scumbag," by one commenter, then told by another to "get off your ass and get the funding or get fired." "Keep your mouth shut and take the money," another Trump fan said. Added a tax-conscious individual: "I hope your asses get audited."
Rieckhoff — who had previously criticized Sarah Palin for blaming her son's arrests on the current president during her stump speech for Trump — said, "This is the climate he's created with his followers."
IAVA was not the only veterans' group to be subjected to abuse from Trump supporters. The executive director of another veterans' advocacy group that turned down Trump's support reported being inundated with hostile phone calls, threats, and people phoning in to call the group's members "faggots."
[h/t The Daily Beast]
[image via Dario Steckley/flickr]
This is an opinion piece. The views expressed in this article are those of just the author.