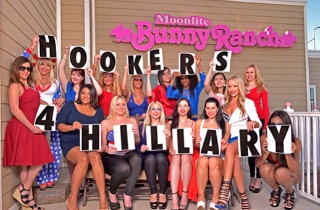 Hillary Clinton is picking up the endorsement of a less-mainstream type of constituency: the sex workers of Carson City, Nevada.
Moonlite Bunny Ranch owner Dennis Hof has a history letting his girls get political, seeing as how they previously supported Ron Paul's campaigns with their "Pimpin' for Paul" movements. This year, the ranchers' promotional website lauds Clinton's advancement efforts in areas like health care reform and domestic violence prevention for working class women.
"Nevada's mandatory testing of legal prostitutes for sexually transmitted diseases is a successful example of effective government regulation," the website reads on their public health agencies tab. "While Republican candidates have questioned the need for agencies like Health and Human Services (HHS) & the Food And Drug Administration (FDA), the Bunnies applaud Hillary's recognition of the fact that responsible government oversight is a key to protecting the public's health from widespread disease."
The website also applauds Clinton for her work on foreign policy and supply-side economics, which the Bunnies argue is quite relevant to their line of work.
"Dennis talks about it, 'We're doing the voting for Hillary.' But I already had it in my mind that I'm going to vote for her, so I'm all for it," said sex worker Entice Love. "We're helping Hillary and we're helping ourselves. Women should help other women, right?"
It has yet to be determined whether Clinton's endorsement has anything to do with how her husband recently campaigned for her just minutes away from a Las Vegas porn convention, but you can count on Mediaite to bring you that important news the moment it;s confirmed.
Watch the sex workers talk about the project in the video above, via Moonlite Bunny Ranch.
[h/t The Guardian]
[Image via Hookers4Hillary.com]
— —
>> Follow Ken Meyer (@KenMeyer91) on Twitter
Have a tip we should know? tips@mediaite.com