Try Not to Punch Your Screen While Watching Justin Bieber's Deposition Tapes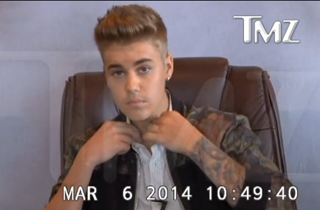 It will be really tempting to get frustrated, maybe even violent, over these leaked depositions given by an assy Justin Bieber in a lawsuit where his bodyguards allegedly punched a photographer. Alas, you will not actually punch Bieber in his little face, but you will have caused hundreds of dollars' worth of damage to your computer screen.
But in these depositions, leaked to TMZ, Justin Bieber veers between delusional, forgetful (he doesn't remember if he's ever been to Australia), vain, and the occasional bursts of self-awareness. Oh, and he gets really angry if people bring up Selena Gomez.
Here he is, saying stuff like "I don't have to listen to anything you have to say," and actually mugging into a camera:

Here, he refuses to answer a question about his former girlfriend Selena Gomez, causing the entire room to melt down:
Here, he makes a joke comparing the lawyer interrogating him to Katie Couric, which is probably not the wisest move in a deposition:

And here is the best Freudian slip of all: when asked whether his mentor Usher was "instrumental" to his career, Bieber insisted that he alone was responsible for being discovered on YouTube. It came out as "I was detrimental to my own career." Yes. Yes, you were:
[TMZ]
[Image via screencap]
— —
>> Follow Tina Nguyen (@Tina_Nguyen) on Twitter
Have a tip we should know? tips@mediaite.com