Twitter Erupts Over 'White Supremacist' America First Caucus: 'What Does That Even Look Like ? Can You Use Spices?'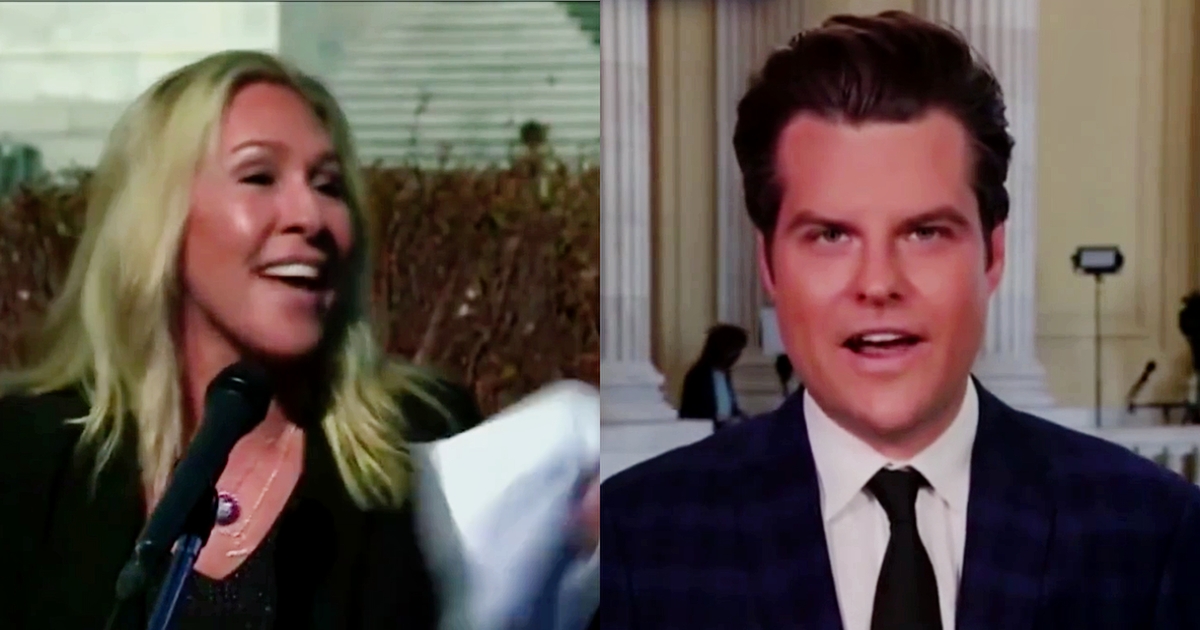 Politicians and media figures from across the political spectrum mocked and condemned the newly-formed America First Caucus supported by Reps. Marjorie Taylor Greene (R-GA), Paul Gosar (R-AZ), and Matt Gaetz (R-FL), and which endorses what it calls "uniquely Anglo-Saxon political traditions."
The announcement of the caucus drew strong condemnation from some Republicans, a stern subtweet from House Minority Leader Kevin McCarthy, and a blizzard of condemnation and mockery from blue-check Twitter.
Members of Congress from both parties were among those who pilloried the caucus with varying degrees of intensity.
So what kind of food will they eat in this Caucus meeting? Just purely Anglo Saxon food? What does that even look like ? Can you use spices? What about tomatoes and potatoes those were cultivated by Indigenous people of the New World? https://t.co/pQpvyFPoaI

— Ruben Gallego (@RubenGallego) April 16, 2021
I guess they may have skipped 19th century American history and the part about the Civil War? Read Lincoln's 1858 July 4th speech or Frederick Douglass 1869 Composite Nation to understand American identity. I'd be happy to join any America caucus centered around those texts.

— Rep. Ro Khanna (@RepRoKhanna) April 16, 2021
This document is nakedly racist and disgusting. This supposed caucus and its members represent a dangerous nativist perspective that hurts our country, but sadly is not surprising. https://t.co/G1cVLe3rSN

— Rep. Peter Welch (@PeterWelch) April 16, 2021
As a Congressman of Anglo-Saxon heritage, let me be the first to decline to join this White Nationalism Caucus. https://t.co/yXpcL1Rusv

— Eric Swalwell (@ericswalwell) April 16, 2021
A more accurate name for new organization of House Republicans led by Marjorie Taylor Greene would be the White Supremacist Caucus https://t.co/VlXdm0FdFt

— Rep. Don Beyer (@RepDonBeyer) April 16, 2021
I'm not joining the GQP's White Supremacy Caucus. But I need your help to defeat it. Make a $10 contribution and you have my word I'll do all I can to root this out of Congress. Join me here: https://t.co/z8bGYK7SmP https://t.co/NdYks9ZYRV

— Eric Swalwell (@ericswalwell) April 16, 2021
Dear @mtgreenee and @RepGosar: When you say Anglo-Saxon, do you mean Aryan? Or master race?

Can I join? Will your caucus meetings serve tacos?

I served on active duty in the US military to defend your right to form Aryan type organizations. I just wish you wouldn't do so. https://t.co/JHrSoRIhzl

— Ted Lieu (@tedlieu) April 16, 2021
Members of the House republican caucus are forming a white supremacist caucus dedicated to "Anglo-Saxon political traditions." Take a good look: this is the republican party. https://t.co/elMHj875Xx

— Bill Pascrell, Jr. (@BillPascrell) April 16, 2021
Exactly 100 days after white supremacists attacked our Capitol, two #GOP Members announced a White Supremacy Caucus.

It's not a coincidence. It's the plan. https://t.co/8hHegy3oqg

— Katherine Clark (@RepKClark) April 16, 2021
When Matt says he's joining the white supremacy caucus: https://t.co/PlF8VIl1Hy pic.twitter.com/h82CFD9AoD

— Adam Kinzinger (@AdamKinzinger) April 16, 2021
I believe anyone that joins this caucus should have their committees stripped, and the Republican conference should expel them from conference participation. While we can't prevent someone from calling themselves Republican, we can loudly say they don't belong to us. https://t.co/ULEF5MRyWf

— Adam Kinzinger (@AdamKinzinger) April 16, 2021
I didn't think there would be a need for clarification, but I am condemning this newly formed caucus, not the Punchbowl News tweet.

— Congressman Ken Buck (@RepKenBuck) April 17, 2021
Declaration of Independence: "We hold these truths to be self-evident, that all men are created equal-"

America First Caucus: pic.twitter.com/RDQD0Buenn

— Rep. Peter Meijer (@RepMeijer) April 17, 2021
The Anglo-Saxon caucus created by @mtgreenee and @RepGosar has apparently admitted Matt Gaetz.

I wonder if their caucus has secret signals and means of communications, like secret Aryan Venmo handles? https://t.co/lXdYzKchOI

— Ted Lieu (@tedlieu) April 17, 2021
There were few who chimed in in support.
I'm proud to join @mtgreenee in the #AmericaFirst Caucus.

We will end wars, stop illegal immigration & promote trade that is fair to American workers.

This is just a hit piece from the America Last crowd in Big Media, Big Tech & Big Government.https://t.co/hjGiuSLwBW

— Matt Gaetz (@mattgaetz) April 16, 2021
And then there was this guy.
I fully support President Trump's America First agenda & policies that prioritize hardworking Americans. But I will not agree to join any caucus until I've had an opportunity to research their platform—which I haven't done with the America First Caucus & therefore haven't joined. https://t.co/X7F3QmEifV

— Rep. Barry Moore (@RepBarryMoore) April 17, 2021
Journalists, media figures, and other verified users joined in as well.
They are free to relocate to Mother England at any time.

Well, after they prove they've been vaccinated. https://t.co/mdcXxlG1xt

— S.V. Dáte (@svdate) April 16, 2021
Anglo-Saxon architecture was, like, thatched-roof sheds https://t.co/MnsjJd3z7J

— Rosie Gray (@RosieGray) April 16, 2021
I just read their manifesto and my only question is … did David Duke write it? Because whoa… https://t.co/EKxQ50JQSC

— Joy-Ann Pro-Democracy & Masks Reid ? (@JoyAnnReid) April 16, 2021
ppl spent years arguing America First wasn't abt whiteness and the America Firsters really really want to clarify: it's about whiteness https://t.co/zuG6aNeUAh

— Astead (@AsteadWesley) April 16, 2021
Once you get past the horror of a white supremacist club in Congress, give yourself permission to laugh at a caucus that calls itself "America First" while clamoring for "Anglo-Saxon" politics and "European architecture" https://t.co/zcHZ9zC11X

— Adam Weinstein (@AdamWeinstein) April 16, 2021
Anglo-Saxon here. This is some pretty blatant white supremacist bullshit here. https://t.co/D7xEnAsktV

— Charlotte Clymer ?️‍? (@cmclymer) April 16, 2021
They are more-or-less explicitly saying that this is their country and the rest of us should just be thankful they permit us to live here. https://t.co/rPHvUFRqrq

— Matthew Gertz (@MattGertz) April 16, 2021
this is called the White Supremacy Caucus https://t.co/59e7QYJhJJ

— rolandsmartin (@rolandsmartin) April 16, 2021
The America First Caucus is a white supremacist caucus in 2021. 2021… https://t.co/6EF6hc4y6R

— Frederick Joseph (@FredTJoseph) April 16, 2021
will see if i can get away with calling this the "white power caucus" in my column

— b-boy bouiebaisse (@jbouie) April 16, 2021
Next up the GOP will hold Whites Only meetings. (Kidding, they are already doing that) https://t.co/wWrCTSJspX

— (((DeanObeidallah))) (@DeanObeidallah) April 16, 2021
These people are exactly who you think they are, and they're relentless proud of it. https://t.co/8SKiIN51VM

— Eric Geller (@ericgeller) April 16, 2021
Reminder: In FEB Rep. Gosar was the keynote speaker at far-right activist Nick Fuentes' "AFPAC" conference, where Fuentes and others pushed white nationalist ideas including railing over the US losing its "white demographic core." https://t.co/PIZHhh9Bgm

— Will Steakin (@wsteaks) April 16, 2021
Have a tip we should know? tips@mediaite.com